Haitian native recalls tragedy, family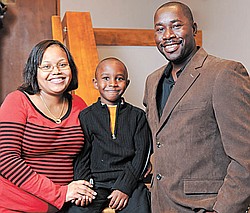 Photo
The Clervil family from Florida includes, from left, Jennie; Brian, 5; and Lesly Clervil. They visited the congregation of St. Michael Church in Canfield Sunday to tell their personal experiences with the Haiti earthquake.
By JORDAN COHEN
news@vindy.com
CANFIELD
The congregation at St. Michael Church sat in silence Sunday as Lesly Clervil described the tragedy the Jan. 12 earthquake inflicted on his native Haiti and his family.
Clervil, who lives in Florida, lost six family members, including his mother. He discovered her remains along with those of two aunts, two nieces and a nephew in the rubble of the family's home when he returned to Haiti two days after the earthquake. Clervil had to remove the bodies. Several other family members survived, he said, but have no choice but to live in tents and on the streets.
"I was mad at the beginning, but now I'm standing on my faith, and I can't turn back," he said. "I can't be upset, and I can't ask why."
Clervil, 39, his wife, Jennie, two children and mother-in-law are spending the week in Canfield as guests of the church and its pastor, the Rev. Terry Hazel.
Only two months before the earthquake, the Rev. Mr. Hazel and Clervil toured an orphanage for mentally and physically disabled children in Port-au-Prince, Haiti's capital, that the church has helped support through Food for the Poor Inc., an international charity. Clervil is the charity's project manager for Haiti.
"Miraculously, all 103 children at the orphanage survived the earthquake, and no one was seriously hurt," Mr. Hazel said.
Clervil also brought a video of Haiti after the quake that included the rubble of the family's home. He visibly fought to restrain tears as he spoke about the loss of life.
"This is what God has given me, the strength to go through this," Clervil said after the service. "I still ask myself if it's me who is standing here."
Mr. Hazel said he initiated the church's affiliation with the orphanage, Little Children of Jesus, in 2000 when he learned about it during a convention in which Food for the Poor had a display.
"I said I had never heard of this charity, and a priest told me to 'come to Haiti and I'll show you what we do,'" Mr. Hazel said. "No charity has ever said that to me, so I did, and we've been helping for 10 years."
Clervil said that although he is still dealing with his personal loss, he is happy to be assisting people who need it most. "Haiti was the poorest country in the Western Hemisphere, and now it's even worse," he said.
Many members of the congregation lined up to shake hands or hug Clervil and his family. A few were in tears as they expressed their condolences.
"He's very brave, strong and definitely a man of faith — an awesome person and a great guy," Mr. Hazel said.