Rotary hosts annual Chili Open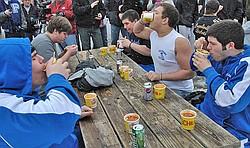 Photo
Neighbors | Submitted .Members of the Poland Seminary High School football team compete in a chili-eating contest during the Poland Rotary's annual Chili Open Golf Classic Feb. 27. From left, John Kulifay, Tom Furano, Nick Sebastian, David Bosak and Dom Sikora.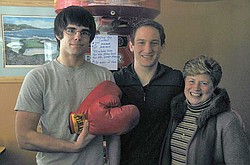 Photo
Neighbors | Submitted .John Dutton (left), the winner of the chili-eating competition receives autographed boxing clubs from local fighter Billy Lyell (center) and $100 from Rotary Club president Carmella Smallhoover (right).
Golf fans and chili lovers enjoyed competitions and food at the Poland Rotary's 24th annual Chili Open Golf Classic at Bedford Trails Golf Course Feb. 27.
More than 100 golfers participated in nine holes of golf and a putting contest, competing for hole-in-one prizes.
The event featured a chili-eating contest sponsored by Wendy's, as well as door prizes and a 50-50 raffle.
Proceeds from the Chili Open will benefit several local charities, including Easter Seals, Family Promise of Mahoning County, Mission of Love, Second Harvest Food Bank and the YWCA of Youngstown.
The event has raised $1.2 million for these, and other, organizations since its inception in 1986.
More like this from vindy.com