Elton John Concert Sells Out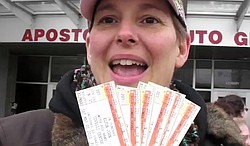 Video
Tickets for the May 1 Elton John concert at the Covelli Center in Youngstown, OH were sold out in a matter of minutes.
By DAVID SKOLNICK
skolnick@vindy.com
YOUNGSTOWN
When it comes to the fastest sellout for an event at the Covelli Centre, singer Elton John knocked out the former champ, Kelly Pavlik.
It took less than 20 minutes Friday for all 7,000 tickets for John's May 1 concert to be sold, said Eric Ryan, the center's executive director.
"The demand for tickets was so great, he could have sold out four or five shows," Ryan said. "This was just incredible."
The Feb. 21, 2009, Pavlik middleweight fight sold 5,500 tickets in the first 30 minutes they went on sale.
It took a few more weeks for the fight to sell out with attendance at 7,334, the record for a Covelli Centre event. The top ticket price for that event was $500.
The old fastest-sellout record at the center, which opened in October 2005, was 48 hours for a June 11, 2008, concert by singer Carrie Underwood. All 5,500 tickets for that concert were sold in 48 hours.
The center received many telephone calls and e-mails from people who were upset they couldn't get tickets online, Ryan said.
"They don't understand it's what happens with a major event," he said.
For example, if only 5,000 people were on their computers at exactly 10 a.m. and able to gain access to purchase just two tickets each, that is 10,000 tickets — or 3,000 more than the John concert's maximum capacity. As it turns out, Ryan said ticketmaster.com reported 10,000 hits about 10 a.m., each with the capacity to purchase up to six tickets apiece.
Covelli Centre officials urged people to not camp out at the facility's box office for the John ticket sale, which began at 10 a.m. Friday.
Most event tickets for major concerts are sold online, Ryan said.
Even if you were among the first to be at the box office, there was a strong chance you wouldn't get tickets, center officials warned.
Despite that, about 175 people — Steve Egry of Mineral Ridge was first in line at 2:15 p.m. Thursday — were outside the box office when it opened at 10 a.m.
Three minutes after tickets went on sale, you couldn't buy a pair online.
It was a bit better at the center's box office.
The $39 and $89 tickets were sold out in less than four minutes with about 25 people buying the less-expensive seats — most of them purchased the six-ticket maximum.
"I don't know how to use a computer so my best chance was to be first at the box office," Egry said.
While Egry has several computers at home, he said he knows only how to play solitaire and a few other online games.
Egry isn't even going to the concert.
He purchased six tickets for his wife and her friends.
Egry plans to go fishing the day of John's concert at the Covelli Centre.
Alia Layshock of Youngstown, who went to the box office about 8 p.m. Thursday, also purchased six $39 tickets.
"I'm just so excited because I didn't know if I'd get them," she said. "I'm so pumped!"
Bridget Wolsonovich, the center's director of marketing, announced just before 10:04 a.m. that the less-expensive tickets were gone.
About 100 people then walked away unwilling or unable to pay for the $139 tickets.
"I don't have a credit card or a debit card, so I had to come to the box office," said Cathy Smail of Campbell.
When the announcement came that only $139 tickets were left, Smail, who got to the center at 6:30 a.m., walked away because she didn't have enough money with her to buy them.
The center held back some tickets to accommodate those waiting at the box office willing to pay the higher price, Ryan said.
About 40 people purchased the higher-priced tickets, but some were turned away because there were no tickets left.
Donna Furry of Cortland, in line since 4:45 a.m. Friday, had planned to buy $89 tickets but decided to purchase six of the $139 tickets when they were the only ones left.
"It's worth the extra $50 each," she said. "I'm so excited to see him."
Robert Maurice of New Middletown, in line since 8 a.m. Friday, had planned to buy two $139 tickets for his wife's birthday.
Maurice's wife had set up their home computer so he could buy them online. But Maurice said he couldn't figure out ticketmaster.com's security-code system and so he drove to the center.
"I went old school," he said.
And he succeeded.
For those who still want to see John and aren't concerned about the cost, there are options.
There are Web sites selling tickets:
ticketliquidator.com has tickets for $146 to $896 each.
frontrowtickets.com has tickets for $174 to $699 each.
ebay.com has tickets ranging from $160 for one ticket to $2,393.60 for four tickets.