Fund started to pay for defense of Pa. boy charged in slayings
MARY GRZEBIENIAK
news@vindy.com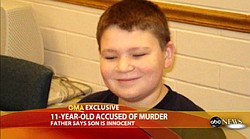 abcnews.go.com/GMA

Photo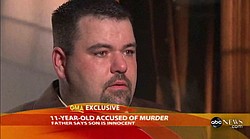 http://abcnews.go.com/GMA

Photo
Chris Brown, Jordan Brown's father
NEW CASTLE, Pa. – Family and friends of Jordan Brown have established a trust fund to defend the New Galilee 12-year-old who is charged with killing his father's pregnant girlfriend.
If tried and convicted as an adult, he faces mandatory life in prison without parole.
Family friends Chris Lindsay and Lonnie McConaghy, whom a press release describes as the fathers of Jordan's two best friends, and Atty. Dennis Elisco, who is part of Jordan's defense team, announced the formation of the Jordan Brown Trust Fund on Thursday. The announcement included a segment aired Thursday on ABC's "Good Morning America," and a story about Jordan was featured on the show's Web site later in the day.
Jordan is charged with criminal homicide and homicide of an unborn child in the shotgun slaying of Kenzie Houk, 26, on Feb. 20, 2009 at the family home. A hearing on whether to move his case to juvenile court is scheduled for 9:30 a.m. today in Lawrence County Common Pleas Court.
The group claims Jordan had no motive and was wrongly accused in the slaying and on its Web site states Kenzie had received "death threats from a former boyfriend in the month before her murder" but that police had not taken them seriously.
Lindsay stated in the press release that Jordan's father, Chris Brown, a former military policeman, has exhausted his savings and no longer has money to defend his son. The defense team, according to the Web site, savejordanbrown.com, is working "pro bono" (for free), but money is needed to pay expert witnesses and cover costs of the defense team's investigation.
More information about the effort can be found at savejordanbrown.com and at jordanbrowntrust.org. Contributions can be made online or by mailing them to The Jordan Brown Trust Fund, P.O. Box 1531, New Castle, PA, 16103.