HOT TICKETS: Elton John fans sell out Covelli
Elton John Concert Sells Out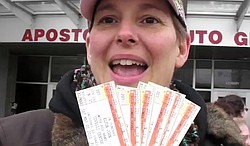 Video
Tickets for the May 1 Elton John concert at the Covelli Center in Youngstown, OH were sold out in a matter of minutes.
Like a "Candle in the Wind," tickets for Elton John's concert at the Covelli Centre disappeared quickly.
At 10:03 a.m., three minutes after tickets went on sale today, you couldn't buy a pair online at ticketmaster.com.
It actually was better at the Covelli Centre box office, where about 175 people waited to buy tickets for the May 1 concert.
The $39 and $89 tickets were sold out in less than four minutes with about 25 people buying the less-expensive seats.
But there were $139 tickets left 30 minutes after they went on sale at the box office.
That's because the center held back tickets to accommodate those at the box office willing to pay the high price, said Eric Ryan, the facility's executive director.
That was about 50 people because when it was announced the less-expensive seats were sold out, more than 100 people walked away.
For the complete story, read Saturday's Vindicator and Vindy.com