Dems endorse primary hopefuls
By DAVID SKOLNICK
skolnick@vindy.com
BOARDMAN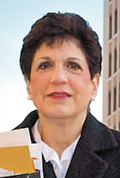 Photo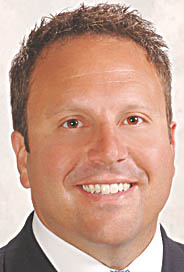 Photo
Mahoning County Auditor Michael Sciortino
Youngstown Councilwoman Carol Rimedio-Righetti captured the endorsement of the Mahoning County Democratic Party for county commissioner, beating 12-year incumbent David Ludt by a 2-1 margin.
"What does that tell you? The people of the Mahoning Valley want change," Rimedio-Righetti said after tallying 76 votes to Ludt's 38 Thursday at Mr. Anthony's.
It was the first time the county Democratic Party endorsed candidates — except for endorsements of Ted Strickland for governor and Marc Dann for attorney general in 2006 — since 1992. The party reinstated endorsements four years ago, but except for the two that year, its members have opted not to endorse till Thursday.
Ludt of Poland left before the final votes were counted but with the knowledge that he was handily defeated. Before leaving, he said the "deck was stacked against him."
County Auditor Michael Sciortino of Austintown easily defeated Andrew D'Apolito of Canfield 98-17.
During a speech in front of the party's central and executive committees, whose members voted on the endorsements, ex-Boardman Trustee Kathy Miller said she was withdrawing as an auditor candidate.
"With the cloud of the potential indictment of several Mahoning County officeholders, and no one appearing to file as a candidate for county auditor, I entered the primary," Miller said. Several of those in attendance let out loud groans at her statement.
With D'Apolito in the race, Miller said there is no reason for her to run.
Sciortino insists he's done nothing illegal as a grand jury investigates evidence related to the county's purchase of Oakhill Renaissance Place. He said he felt "bad for [Miller] that she had to stoop that low. She was never in. She was put in by Mark Hanni to play political games."
Hanni has recruited a number of candidates to run for precinct committee positions though he insists he isn't interested in running for party chairman, a position held by David Betras.
Hanni said he had nothing to do with Miller's entering or exiting the race.
Other incumbents endorsed were Rep. Mark Okey of Carrollton, D-61st, for re-election, and state Rep. Robert F. Hagan of Youngstown for state central committeeman.
Also, the campaigns of Secretary of State Jennifer Brunner and Lt. Gov. Lee Fisher asked the county party to endorse them. Those requests were honored.
More like this from vindy.com