By ED RUNYAN
runyan@vindy.com
WARREN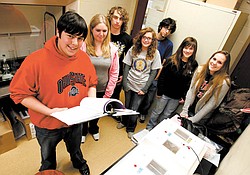 Photo
Jonathan Killias, left, Taylor Sanfrey, Kaleb Karkow, Alexandria Engler, Damian Kouvaris, Rhiannon Plant and Rebecca Baydner, seven juniors at Warren G. Harding High School, signed up for an unusual program for juniors and seniors known as International Baccalaureate.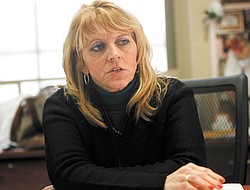 Photo
Warren G. Harding High School Principal Ruth Zitnik
Every parent would like his or her teenage son or daughter to develop independent thinking skills and an understanding of the world beyond the doors of their home or school.
Such skills not only give the teen the courage to avoid peer pressure but can also open the door to a good education and a bright future.
Seven juniors at Warren G. Harding High School accepted the challenge of becoming that type of person by signing up for an unusual program for juniors and seniors known as International Baccalaureate.
The program, started at Harding in 1993, is unusual in that it is offered at only 20 high schools across Ohio, with the closest at Aurora High School, 30 miles to the north.
As the name suggests, the program teaches students about the world and prepares them for college.
It "aims to develop inquiring, knowledgeable and caring young people who help to create a better and more peaceful world through intercultural understanding and respect," the IB Web site says.
At 1,072 public and private schools in the U.S. and 2,823 schools in 138 countries, IB encourages students to "become active, compassionate and lifelong learners," the Web site says. Teachers at a private school in Geneva, Switzerland, started the program in 1968.
It may seen ironic that such a prestigious program is available in a school district that has struggled so much on its state report-card scores in recent years, being rated at Academic Watch last year.
Only Youngstown City Schools scored lower in Trumbull, Mahoning and Columbiana counties.
But Ruth Zitnik, Harding principal, said school officials believe that the cost of the program is worth it because all students deserve the opportunity to achieve to their full potential.
IB membership, examinations and the cost of evaluating the exams for the seven juniors and 33 senior students costs Harding about $23,000 per year.
The program is in the midst of change.
Starting with this year's junior class, IB is only for students who want to participate in the entire IB program and qualify for an IB diploma.
Previously, including this year's senior class, students had the choice of selecting one or two IB classes.
The program includes classes in language, social studies, experimental sciences, mathematics and the arts.
The problem with the old way, Zitnik said, is that only about one Harding student per year was earning an IB diploma. She is hoping that number will increase substantially starting with the junior class.
What this means for the seven juniors, however, is that they spend nearly the whole day together. Another challenge of IB is that it is demanding and limits a student's free time, Zitnik said.
"It really helps you really learn how to manage your time," said IB student Rebecca Baugher. Rebecca, who wants to major in sociology or anthropology in college, added that each of the seven also is participating in a sport this year.
"The stress can be overwhelming at times," said Rhiannon Plant, who plans to go into the Army Reserves and major in pre-med at college.
The biggest payoff of being in IB is the great preparation it provides for college, the students said.
"We definitely got into the program for college, not other people," Rhiannon said.
Zitnik said good grades is one criterion for acceptance into the program, but each of the seven also came in with a healthy sense of independence — something that will be developed over two years.
"There's a lot of challenging of traditional ideas" in IB, Zitnik said. "Rather than just accepting what they're told by adults, they're encouraged to challenge what's fed to them."
"They're open-minded thinkers," said Bryan O'Hara, IB coordinator and assistant principal for instruction. Because of the growth of the Internet, there are great opportunities for those who understand the world, he aid.
Lisa Bennett, another IB coordinator, said she's discovered that the ideal IB student isn't just smart, but also has "a certain work ethic."
For example, the program had a student several years ago who was only "so so" in his classwork at Harding, but he "liked the analytical" and thrived in a setting with a small number of students.
"It was just what he needed to be a stellar student," she said. He eventually earned his doctorate and now oversees security systems for a major corporation — a "computer geek," Bennett said.