Owners envision prosperous economic growth through entertainment
Downtown Owners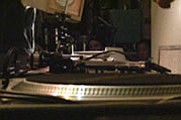 Video
The NewsOutlet is a joint media venture by student and professional journalists and is a collaboration of Youngstown State University, WYSU radio and The Vindicator.
About this package
Youngstown State University, WYSU radio and The Vindicator collaborate in a program called The NewsOutlet, a joint media venture by student and professional journalists.
The NewsOutlet students recently examined downtown nightlife — a slice of Youngstown that is a growing attraction and destination — and also unknown to many Valley residents.
More than one dozen students hit downtown on Feb. 26 and 27. The result is a two-part package featured today and Monday that looks at this micro-economy — from the business owners to the workers; from the artists who perform to the patrons who come from throughout the Valley and Northeast Ohio to be entertained.
By Katelyn Carusso
The NewsOutlet.org
YOUNGSTOWN
Along with your coffee and gourmet sandwiches, the Lemon Grove Café serves up live music, local artwork, poetry readings, lecturers and even discussion groups.
"I wouldn't want to do this anywhere else but downtown Youngstown," said Jacob Harver, the owner of the new West Federal Street café.
At 27, Harver is the youngest restaurant/bar owner on the block.

He joins a handful of other business owners here who also envision prosperous economic growth through entertainment. From the Love Lounge to Cedar's to the Draught House, each locally owned establishment is unique.
Many of these owners were reared in the suburbs and all of them agree on one thing for sure: starting a business downtown was a good investment.
Next to the Lemon Grove is the Imbibe Martini Bar. Co-owner Jeff Kurz said Youngstown had the best incentive program for small businesses.
"If you invest in downtown now, this could be something you could eventually retire off of," said Kurz.
Kurz said he chose downtown as the ideal location because it is between Cleveland and Pittsburgh and he has never noticed safety problems. He's also an attorney with a law office located downtown.
Imbibe opened in June 2005 and is known for its selection of 121 types of martinis and 60 different beers. It created clubs for patrons who consumer the many different types of beverages they offer – over a period of months, of course.
"Anyone who tries all of our martini flavors in one year and six months will be granted access to our private lounge whenever they please," said Kurz.
Rosetta Stone Café is also on West Federal Street and is marking two years in business. "Downtown Youngstown is going to become a very hot spot," said owner Charles Sop.
Rosetta Stone opened in 2008 and besides a restaurant and café, it also offers catering services and becomes more of a night club on Friday and Saturday nights.
"We get a lot of different types of people in here from the age of 21 all the way up to 88. We see a lot of wedding parties, people coming out for a glass of wine, people coming out to dance, and folks just wanting to have a good time," Sop said.
Every Wednesday is fiesta Latin night and every Thursday is '80s rewind night. "We have to do more events to get more people downtown more often," said Sop, who would like to see the city also help in promoting businesses downtown.
Rosetta Stone, Imbibe, and the Lemon Grove do their own advertising and say their businesses are successful.
"Entertainment is recession-proof," Kurz said. "Last year alone, Imbibe's sales increased by 150 percent."
Harver said opening the Lemon Grove is not only good for him as a business owner, but also benefits the surrounding businesses, as it encourages people to "bar hop" from place to place.

"It's not about competition ... we make each other stronger," said Harver.
Mayor Jay Williams said he's going to push to get more people downtown over the next 18 months, and he'd like to see more locally owned businesses emerge. "When resources allow, we offer grants as incentives to small businesses that open downtown," he noted.
Bill D'Avignon, Youngstown's community development director, said the city can offer business owners building permit fee waivers, money toward improving the building's exterior, a cut in property taxes, and more.
Williams said that because parking is becoming hard to find, he would like to pursue resources to establish more parking facilities downtown. He said he would also like to add decorative lighting.
The restaurant/bar owners have their own plans for expansion.
"In our business plan, we have to reinvest our money in downtown Youngstown. So we helped completely renovate the building the Lemon Grove is in. We're also working on the upstairs of Imbibe now. So we're on our third project in downtown Youngstown in five years." said Kurz.
He plans to open the upstairs of Imbibe in June and would also like to continue renovating properties along West Federal Street.
Next door at the Lemon Grove, Harver said his goal is to open other businesses that feature area bands and sell work done by local artists.
"Not only are we creating entertainment spots, we're creating jobs for the people of Youngstown," said Sop, who plans on opening a club called "The Vault" within the next two months.
The club, meant to attract Youngstown State University students, will be located in the basement of Rosetta Stone with a separate entrance. Sop would also like to transform the rooftop of Rosetta Stone into another floor for people to eat, drink, and dance.
"Ultimately, as business owners, we want downtown to become the destination. The reputation of Youngstown is our reputation now, so we're trying to better the reputation of the area," said Kurz.
D'Avignon said entertainment downtown is a huge change from what it used to be. "Ten years ago there wasn't much going on at night. Now, there's a good mix of establishments to keep people downtown after 5 o'clock," he said.
Both Williams and D'Avignon said the downtown is safe.
"Statistics show downtown Youngstown is one of the safest places in the Mahoning Valley," said Williams.
To promote downtown, Williams said he would like to see more events that close down the city's streets. Some events that already close streets are the Christmas parade, Italian Fest, and the upcoming St. Paddy's Day dash.
(The NewsOutlet is a joint media venture by student and professional journalists and is a collaboration of Youngstown State University, WYSU radio and The Vindicator.)