New jobs created in downtown Youngstown
By Christine Keeling
The NewsOutlet.org
YOUNGSTOWN
Downtown Workers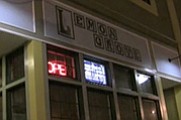 Video
The NewsOutlet is a joint media venture by student and professional journalists and is a collaboration of Youngstown State University, WYSU radio and The Vindicator.
Downtown Workers and Owners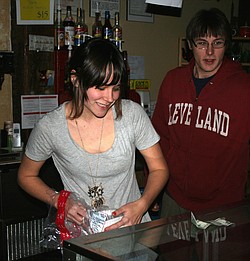 Gallery
About this package
Youngstown State University, WYSU radio and The Vindicator collaborate in a program called The NewsOutlet, a joint media venture by student and professional journalists.
The NewsOutlet students recently examined downtown nightlife — a slice of Youngstown that is a growing attraction and destination — and also unknown to many Valley residents.
More than one dozen students hit downtown on Feb. 26 and 27. The result is a two-part package featured today and Monday that looks at this micro-economy — from the business owners to the workers; from the artists who perform to the patrons who come from throughout the Valley and Northeast Ohio to be entertained.
Nightlife activities in downtown are giving the city a new face and spin.
They are also creating new work opportunities.
"I look at it like a gold mine that people don't know they have," said Cory Fruster, manager of the Love Lounge.
With more than a dozen bars and restaurants now in operation, more than 100 jobs have been created. The ideals, hard work and lack of fear are earning bartenders, managers and security employees a living and giving area neighborhoods new residents.
Fruster moved to Youngstown from Atlanta Dec. 31. He decided to stay after he helped his friend, Lucky Penny, open the new lounge at 15 W. Federal St. He believes that downtown can be like the Atlanta Strip.
"There's a lot of talent here," said Fruster. "The businesses in downtown offer different flavors and people have unique experiences. There's nothing better than people leaving and saying what a big-city feel Youngstown offers."
The young manager, who goes by the nickname Corporate, moved about the dimly lit lounge checking to make sure his "urban chic" crowd was welcomed and other employees were doing their jobs.
The huge arm of Larry Watkins sports a tattoo with a fitting name: "Big Boy."
His huge arm also stopped everyone at the door of Love.
"NO ID, no enter" was his motto.
"I moved here to do security," Watkins said. He works for Titan Security, which was hired by the club.
"I haven't had any problems here," he said.
Watkins moved from Columbus to Youngstown a year ago and likes his job. He's all business when it comes to security, but also offers departing patrons a hearty laugh and "Have a nice night."
Across West Federal Street inside the crowded Lemon Grove, North Side resident Amber Foster rushed behind the bar to pour draft beers.
The Youngstown State University graduate feels at home in her workplace. The cultural venue has an earthy feel and fast-paced environment that fits well with Foster's degree in science, psychology and art. She pointed to a Pride Youngstown event Feb. 22 that discussed gays in the black community. She said a diverse, talkative group of people gathered. At the same time, there were people in the back bar area working on other projects.
"People from the band who have probably never hung out with people from Youngstown, hanging out with people from the black community," said Foster. "It's everything I am interested in because it brings community together."
Foster's bubbly personality and skills as a bartender help her to be successful even though she had apprehensions about supporting her 4-year-old son on a downtown bartender's tips.
"I've been more than surviving. I have actually paid bills off," Foster said.
She gives credit to her customers' generosity, and her ex-husband, ex-father-in-law and mother for watching her son while she works three shifts a week.
Around the corner at 32 N. Phelps St. is the Old Precinct. For Amber Lambach, her job behind the bar is a way to assimilate into a new town and create extra cash for shopping.
Lambach is a compliance supervisor for Falcon Transport. She moved to Deerfield when her company transferred her and looked for part-time, weekend work.
"I bartended at other places and at some, you make more money. But you have to deal with a lot more hassles from customers than here," Lambach said.
Lambach started at the Precinct in August, saying she was in the right place at the right time and clicked with the owners.
"Being a young, single girl moving out to this area and going downtown by yourself, you're a little concerned because they put that in your mind," said Lambach. "But then you get here and it's not that bad at all."
(The NewsOutlet is a joint media venture by student and professional journalists and is a collaboration of Youngstown State University, WYSU radio and The Vindicator.)