Work and Play | Nightlife comes alive in Youngstown, Ohio
By Melinda Gray
The NewsOutlet.org
YOUNGSTOWN
Downtown Patrons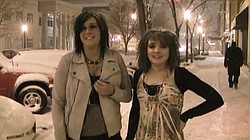 Video
Patrons take in the sights and sounds of downtown Youngstown nightlife. The NewsOutlet is a joint media venture by student and professional journalists and is a collaboration of Youngstown State University, WYSU radio and The Vindicator.
Downtown Youngstown Artists and Patrons

Gallery
About this package
Youngstown State University, WYSU radio and The Vindicator collaborate in a program called The NewsOutlet, a joint media venture by student and professional journalists.
The NewsOutlet students recently examined downtown nightlife — a slice of Youngstown that is a growing attraction and destination — and also unknown to many Valley residents.
More than one dozen students hit downtown on Feb. 26 and 27. The result is a two-part package featured today and Monday that looks at this micro-economy — from the business owners to the workers; from the artists who perform to the patrons who come from throughout the Valley and Northeast Ohio to be entertained.
When the lights of downtown office buildings are turned off each night, another set of lights turns on.
More than a dozen nightspots dot the downtown streets and are quietly and steadily becoming their own micro-economy. They cater to a variety of tastes — from students to professors; from business people to blue-collar workers.
For downtown nightlife patrons, the appeal varies. From Struthers they come. And Boardman. And Canfield.
Some arrive in town for Youngstown State University events and wander down the hill; some are there for the growing art scene. Some just come to have fun.
That most of the nightspots are within walking distance of one another adds to the appeal.

On South Hazel Street, Joe Mondora, 39, Struthers, walked with friends to Cedars Lounge to celebrate with the establishment's owner, Mara Simon, on her birthday.

"We came for the arts, the Johnny Cash tribute band, The Lemon Grove and to rub elbows with other artists from Youngstown, to support Youngstown," said Mondora. In his group were Fran Ruble, 42, Hubbard; Dave Mularchik, 38, Boardman; and Alfonso Labra, 36, Canfield.
They were in the city for an art event. Labra and Mondora are artists.
"I got together a bunch of friends, and there was interesting conversation and interesting people," said Mondora. "It's very laid back."
A block away at Barley's, 21 West Federal St., sat Dennis Justice, 50, Youngstown. He's been coming downtown for about two years.

"I would rate it about an eight out of 10," he said.

Down the street at Draught House, Kevin White, 38, Youngstown, enjoyed a conversation with three friends.
"I had things to do, stuff at home, but I had to come out. I love the snow." He is a part-time teacher at YSU and an intern at Rite Aid.

Another group of students played darts and pool in the front room. James Hayes, 22, a student at Cleveland State University, came to Youngstown to DJ the "Dance for a Cure" event at YSU. Hayes said that he likes the nightlife offered here.
"I have a lot of good memories in Youngstown."
On another part of West Federal, sisters Chelsea and Miranda Campbell of Canfield shivered in their skirts and open-toed shoes as they hurried into Rosetta Stone.
"Rosetta Stone is the best ever," said Chelsea, 21. Miranda is 22. They said they often come to listen to great bands and experience the lively downtown atmosphere.
Rhythm Nation Band filled Rosetta with song and a fog machine filled the air. Patrons of all ages danced and chatted with one another on the crowded dance floor.
In the crowd was new bride Anjie Greenwalt, 33, and her husband Chuck, 32, both from Youngstown. They were having their wedding reception there.
"My sister works here, and the food is wonderful. We're having a great time," she said.
Across the street at downtown's newest nightspot, the Love Lounge, were Nicole Ellis of Boardman and Marlene Lyles, 29, of New Castle, Pa.
The women said that they just wouldn't let the weather keep them home.

"We came out to go clubbin'," said Ellis.

Briana Hideg, 24, attends YSU and bartends in Austintown. She loves to come to downtown Youngstown and was on her way to another West Federal club — Downtown 36. "It's fun to dance and there's good music. The owners all interact with the people."
The red lights around the 36 bar glowed and a mostly YSU crowd danced to hip-hop sounds.
Hideg said she feels safe downtown because of the police presence.
She thinks that downtown could use more bars and restaurants, but that it is coming along nicely.
"The more they build it up, the better it is for the economy here."
The NewsOutlet is a joint media venture by student and professional journalists and is a collaboration of Youngstown State University, WYSU radio and The Vindicator.