---
By DON SHILLING
shilling@vindy.com
General Electric Plant Closing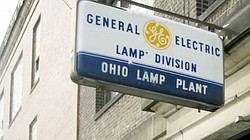 Video
General Electric is closing plants in the Mahoning Valley. Ron Oskowski is one of hundreds of workers losing his job.
Like many of us, Ron Oskowski is saving money by using high-efficiency light bulbs in his Austintown home.
Unfortunately for Oskowski, that same technology is eliminating his job.
He is among the hundreds of area General Electric workers who are victims of a worldwide drive to cut energy costs.
GE is shutting down much of its local operations because they produce incandescent bulbs and related products that don't meet new energy standards set by governments around the world.
Oskowski, 44, said the closing of his plant in Niles next month "really, really hurts" because it was the job he always wanted to land — steady work, good pay and a secure retirement down the road.
"It was the American dream," said the Navy veteran who's been with GE for 10 years.
That dream is ending, or at least being obscured, for many in the Mahoning Valley. Oskowski's plant will be the third local factory that GE has closed since 2008. In addition, GE's last remaining plant, Ohio Lamp Plant in Warren, has had its work force cut by more than 50 percent in the past 10 years.
Soon, GE's only employees in the Valley will be the 240 workers at the Warren plant. The company's local work force totaled 1,050 a decade ago and 2,000 in 1985.
Stung by the cutbacks, many GE workers have refused to install the compact-fluorescent bulbs that are replacing the outdated incandescents.
At first, Oskowski resisted installing CFLs. But when his children came home from school and begged him to install the energy-saving bulbs, he relented.
"I see where GE is coming from," he said.
He said he understands that GE can't keep churning out bulbs that it can't sell. Following the leads of other countries, Congress passed an energy bill in 2007 that will prohibit the sale of most incandescents. The ban will be phased in from 2012 to 2014.
The laws set standards that can be achieved only through the use of new technologies, such as CFLs, which last longer and are more efficient.
Oskowski gets all of that, which is why he has installed some CFLs in his house.
But that doesn't take away his frustration as he ponders his future without a job.
"GE should have brought us another industry to this area," he said.
Since it didn't, Oskowski is the one looking for a new industry. Unless he can latch on at a GE plant in another city, he plans to take classes to become a windmill technician.
Instead of bringing new lighting technology to local plants, GE is importing its CFLs, which are made by a joint venture that it created with another company in China.
Union officials tried without success to bring such work to the Mahoning Valley.
"They've upgraded overseas and phased us out," said Dennis Hayda, president of Local 751 of the United Electrical Workers at the Mahoning Glass Plant in Niles.
That plant produced glass for incandescent spotlights and floodlights. Work from Niles was moved to a more modern plant in Kentucky because both plants had been operating below capacity.
Michael Petras, president and chief executive of GE Lighting, said the costs were too high to retrofit the old plants in the Mahoning Valley.
Plus, the area's last remaining plant — the Ohio Lamp Plant in Warren — has the highest-paid light bulb workers in the world, he said.
"They're great people, and they've done great work for us. But these two things make it tough," he said.
To make Warren more attractive, plant workers gave up three years of raises they were scheduled to receive, said Bill Draves, president of Local 722 of the International Union of Electrical Workers at Warren. Previously, they had agreed to lower wage scales for new workers and those in certain non-production jobs.
Longtime production workers are paid an average of about $27 an hour, although the lower tiers go down to $12 an hour.
Still, some work remains at Warren. The federal energy bill provided exclusions for small household bulbs, such as candelabra bulbs, and certain spotlights and floodlights that are made in Warren.
Draves acknowledges, however, that all of the plant's jobs will be gone someday if it continues to make only incandescent products. More stringent restrictions are expected out of Washington, he said.
Having missed out on CFL production, the plant's next hope is light-emitting diodes, or LEDs.
"We need LEDs, and we need to get into the 21st century. If not, we're going to get left behind," Draves said.
He is part of a group that recently has been lobbying in Washington, D.C., for federal assistance for the lighting industry in order to retrofit existing machinery and for research and development. The labor group also is seeking trade rules that would require imported products to be made under safety and environmental regulations that exist in the U.S.
"We can be green, and we can be blue at the same time, as in blue-collar work, people putting food on the table," he said.
Draves also said that some union workers in Warren and company engineers last year developed a prototype of a floodlight made with LEDs. He said a senior IUE official showed the prototype to Jeffrey Immelt, chairman and chief executive of GE Corp.
"There was quite a bit of stir over that. It showed we're really concerned and willing to do what it takes to keep our jobs," he said.
Petras, who is based in Cleveland at GE Lighting's worldwide headquarters, said he wasn't familiar with the prototype. He said he constantly receives ideas on new lighting technology, which are reviewed by staff.
Some LED products have hit the market already, such as those for display cases and street lights, but many household applications are still coming. LEDs for household use have been slower to arrive than CFLs because LED products tend to spread light only in one direction.
In a display in Cleveland, however, GE has a LED-powered household bulb that it plans to introduce this year. The bulb spreads light in all directions like an incandescent but uses less than 10 watts of electricity and is designed to last 20,000 hours. The display compares it to a 40-watt incandescent bulb that is rated at 1,000 hours of life.
Petras said production decisions on such products are still pending, so he couldn't say if LEDs will find a home in the Warren plant.
When the federal law first came out, it appeared domestic lighting plants had more of a future, he said. GE had hoped to make enough improvements to incandescent bulbs that they could meet the new energy standards.
"We spent millions of dollars on that, and it would have allowed us to keep our facilities that make incandescents. It just didn't work out," he said.
The changes in technology are forcing GE to restructure its entire lighting business, he said. As newer bulbs last longer, less production is needed and so older, less-efficient plants have been closed.
"It's a global phenomenon. It's not just an Ohio thing or a U.S. thing," Petras said.
Plants have been closed in Asia, South America and Europe as well as in North America, he said.
He noted that GE is moving production of long fluorescent bulbs from Hungary and Canada to a plant in Bucyrus, Ohio, because the domestic plant is larger and has more efficient equipment. GE is spending millions of dollars to upgrade the equipment further and add production space, he said.
Hayda, the union officer in Niles, said one of the workers from that plant has been hired in Bucyrus and others have interviewed for positions.
Other Niles workers are looking for jobs in the area, while many will retire. Hayda said he is among the 46 workers who have enough years with GE to receive full pensions and health care. The plant employed 109 when the closing announcement was made last year.
As Draves wonders whether the same fate is coming to the Warren plant, he said he wonders if GE should consider the lives of its workers as it strives to be as profitable as possible.
"Sometimes, I have to ask, 'How much money is enough?'" he said.
But Petras said GE Lighting is fighting a pitched battle against light-bulb manufacturers around the world. All of them are after the limited shelf space at Home Depot, Lowe's, Target and Wal-Mart, which sell two-thirds of all light bulbs in this country.
The only way to get on those shelves is to efficiently produce the latest technology, he said.
Sometimes, as in the case of the Mahoning Valley, that means closing plants that are making outdated products, he said.
"This is no reflection on our employees. Our business is changing," Petras said. "Just because I've been a light-bulb company for 100 years doesn't mean I'm going to be a light-bulb company for the next 100 years," he said.
GE IN VALLEY
History
General Electric was once a major employer in the Mahoning Valley A look at the company's declining local presence:
Youngstown Lamp Plant produced small household bulbs, such as night lights and Christmas lights. Closed in 1985. Jobs: 500. Half the jobs were eliminated and half sent to other local plants.
Trumbull Lamp Plant in Warren produced various bulbs for the aircraft, mining, construction, farm, entertainment and swimming-pool industries. Closed in 1989. Jobs: 300. A few dozen workers were transferred to other plants, but the rest were eliminated.
Austintown Products Plant produced filaments for incandescent bulbs. Closed in 2008 Jobs: 73 positions eliminated, although the plant employed 250 in 2000.
Niles Glass Plant produced glass for high-intensity lights, such as street lights. Closed in 2008 Jobs: 57 positions eliminated.
Mahoning Glass Plant in Niles produced glass for incandescent spotlights and floodlights. Will close in April. Jobs: 109 positions eliminated.
Ohio Lamp Plant in Warren remains open with 240 employees.
240, down from 600 in 2000.