CHS students learn to grow old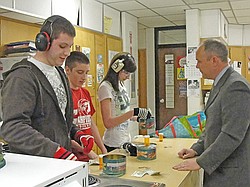 Photo
Neighbors | Grace Wyler .Local entrepreneur Tim Chesney (right) helps students appreciate the aging process. Students raced to count money and identify pills. Students, from left, are senior Jeff Richmond, freshman Ryan Yankush and freshman Katie Deal.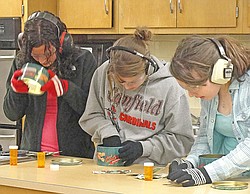 Photo
Neighbors | Grace Wyler.Students in Ms. Dance's Family and Consumer Science class simulate the effects of growing old with gloves, noise-reducing headphones and foggy glasses. From left, freshman Stephanie Carroce, sophomore Melissa Bruss and freshman Maggie Shaughnessy.
By Grace Wyler
A group of Canfield High School students took a step in their grandparents' shoes during a special presentation in Ms. Terri Dance's Family and Consumer Science class Feb. 24.
Tim Chesney, a local entrepreneur who owns nursing homes throughout northeast Ohio, visited the class to help students appreciate the process of growing old.
Volunteers — wearing gloves, Vaseline-covered glasses and noise-reducing headphones — raced to identify different colored pills and count money. Students laughed as their classmates struggled with these basic tasks due to their reduced sensory perceptions.
Chesney, whose daughter Tierney is in the class, also discussed the different career opportunities that are available in nursing homes.
"The presentation is meant to help students gain an appreciation of other careers, as well as of the circle of life," Dance said. "These [students] are young and they might not think about aging, but it is going to affect us all."