Boardman wrestlers qualify for state tournament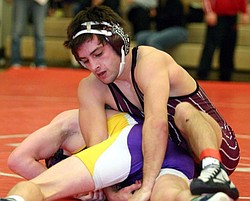 Photo
Neighbors | Submitted.Jerry Pasquale (top) defeated North Royalton's Matt Yurkovich 4-2 in overtime to take third place in the Mentor dstrict Saturday and earn his second trip to the state wrestling tournament.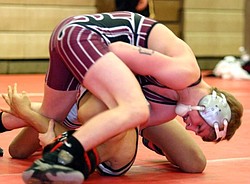 Photo
Neighbors | Submitted.John Dillon (top) controls Parma's Steve Flores Parma en route to a 12-3 semifinal major decision in their 125-pound bout Saturday. Dillon finished second at the Mentor district tournament to advance to the state tournament.
The Boardman High wrestling team will be represented at this weekend's Division I state tournament by three competitors after they qualified out of districts.
Boardman sophomore John Dillon will compete at state for the second straight year after he took second at the Mentor district Saturday. Dillon finished third in the state in 2009 at 103 pounds.
Jerry Pasquale decisioned North Royalton's Matt Yurkovich, 4-2, at 119 pounds to advance to the state tournament, This is his second trip to Columbus, where he finished eighth at 103 pounds in 2007.
Ricky Zupko will make the trip as an alternate at 130 pounds by defeating Kyle Grabowski (Twinsburg) 12-6 to take fifth place.
"The team wrestled outstanding, finishing in the top 12 in one of the toughest districts," said Boardman coach Dom Mancini. "Nick Mancini gained a pin and Tim Taumopeau a win for the Spartans before bowing out of the tournament. Nico Graziani went 2-2, losing a tough quarterfinal match that knocked him out of the winner's bracket.
"[John] Dillon, [Jerry] Pasquale and [Ricky] Zupko scored big points to help the team get into the top 12. I expect the kids to wrestle their absolute best at state and if they do that, they will finish the season on the podium, which is the goal."