Boardman swimmers spin more broken records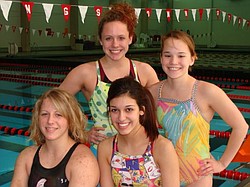 Photo
Neighbors | Submitted.Boardman's record-breaking 200 medley relay team includes, from left, (front) Ashley Aldan, Gaby DeAscentis; (back) Emily Bodamer and Jessica Gonda .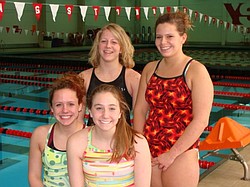 Photo
Neighbors | Submitted.Boardman's record-setting 400 Freestyle relay team includes, from left, (front) Emily Bodamer , Colleen Manning; (back) Ashley Aldan and Megan Barringer .
The Boardman High School varsity swimming teams broke three school records and three freshman records at the district championships at Cleveland State University Feb. 20.
Junior Ashley Aldan broke her previous school record time of 25.02 in the 50 freestyle with the new time of 24.88. She placed ninth overall in the event. She was also a member of two Spartan relays that set new records.
She joined freshman Gaby DeAscentis, junior Jessica Gonda and sophomore Emily Bodamer in the record-breaking 200 medley relay. These same four girls broke the record the week prior in the sectional championships with a time of 1:55.07. At the district meet, the girls took another second off the record by posting a time of 1:54.07 and placing 10th in the meet.
Aldan and Bodamer were joined by senior Megan Barringer and freshman Colleen Manning on the record-setting 400 freestyle relay. The quartet posted a time of 3:44.31, which broke the mark of 3:44.65 set in 2008 by Kayla Aldan, Megan Palmer, Katie Henson and Ashley Aldan.
Manning also reset her freshman school record in the 100 backstroke with a new time of 1:04.58. She placed 22nd in the event.
Boardman also qualified senior, first-year diver Karlie Ligore in the district diving meet. She placed 29th in the meet.
"We have had an excellent season," said Boardman coach Terry O'Halloran. "Our swimmers have dropped their times more this year than any other season. The goal is to always strive to qualify for the state meet and we came very close to doing that.
"Ohio swimmers continue to go faster and we have set our goals to get stronger and faster next year and make it back to Canton."
In the boys' competition, Boardman was led by freshman Ryan Bailey and junior Michael Henson. Bailey broke two freshman records while placing 11th in the 100 breaststroke (1:02.39) and 13th in the 100 butterfly (54.31).
Henson placed 13th in the 100 backstroke in a career-best time of 55.86.
Boardman also took ninth in the 200 medley relay in a season-best time of 1:41.12 and narrowly missed qualifying for the state meet in the event. The medley relay swimmers were Henson, Bailey, senior Ali Azeem and junior Steven Moss. Henson, Moss and Bailey were joined by junior Mike Reardon on the 11th-place 200 free relay. The team posted a season-best time of 1:30.29.