Are you smarter than your third-grader?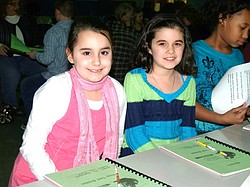 Photo
Neighbors | Submitted.Tori Cappuzzello (left) and Selena Faria look over their practice booklets before competing against their parents in the math game at their school.
By PAM JADUE
In game-show style, the third-grade students and parents of Watson Elementary School were treated to a fun night of math and prizes by Principal James Carchedi and the teaching staff Feb. 25.
This was a fun way for the students and parents of the school to familiarize themselves with Ohio's third-grade Achievement Test. Parents competed against their children in their knowledge of third-grade math with some fun and surprising results.
Carchedi made a presentation prior to the game show event with the purpose of easing parent anxiety concerning the upcoming Ohio Achievement Assessment in math and reading. He explained that the test would help parents and teachers to know whether or not the student has learned what is expected of them in reading and math thus far.
The state provides a practice test booklet that helps students become familiar with the test format. Parents are asked to look over the booklet with their child in preparation.
The federal No Child Left Behind Act requires all states to establish academic standards that tell what students should know and be able to do in reading and math at the end of each grade. Schools are also required to test all students in grades three through eight annually in reading and math to assess how well students are meeting the academic content standards.
The results of the tests are used to identify districts, schools and students that may require additional resources to meet state academic standards and recognize those who are performing well.
Watson had been recognized this year as a National Blue Ribbon School as a result of its own successes.
According to the state of Ohio guidelines, the Ohio Reading and Mathematics Achievement Tests are annual assessments that measure how well students have learned the reading and math concepts taught in grades three through eight. The achievement tests are designed specifically for Ohio students and are based on Ohio's academic content standards. They do not test a child's intelligence or aptitude and are not meant to compare children's abilities.
During the evening, students were paired against their parents in a math contest that utilized questions from the Achievement Test practice booklet giving both students and parents an opportunity to become familiar with the types of questions that would be on the test. Prizes were awarded to students who answered Watson trivia questions correctly.
When asked about the program, Karen Bernard, mother of third-grader Dante Bernard remarked, "I was anxious about coming because math is taught differently than it was when I was in school and I was not sure how I could help him be better prepared. This was great. It was helpful and we both had fun doing it."