Brookfield man admits raping, beating stepson, 8
By Ed Runyan
WARREN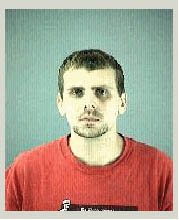 Photo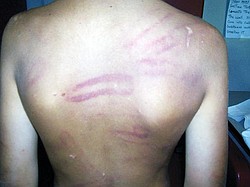 Photo
SOBER SIGNS: Brookfield Township Police took this picture of the marks and bruises on the body of an 8-year-old boy. His stepfather, Damion Wise, has been charged with felonious assault and child endangering.
Damion C. Wise still had no explanation for the beatings and emotional abuse he delivered to his 8-year-old stepson last summer at their Brookfield Township home, but he pleaded guilty Thursday to 10 offenses, including rape, for a prison sentence of 10 years to life.
Diane Barber, an assistant county prosecutor, said Wise, 30, hit the boy in the head with a small wooden bat; raped him with a toothbrush; stomped on his chest, which broke a rib; choked him; and stuck his fingers in the boy's throat.
"When we received the call from the Brookfield police in August of last year, even our most veteran caseworkers were aghast at the condition of the 8-year-old victim," Marcia Tiger, Trumbull County Children Services Board executive director, told the court before sentencing.
Wise declined to explain his actions to Common Pleas Judge Peter Kontos or to reporters while being led away to the county jail.
Barber said prosecutors agreed to grant Wise a sentence of as little as 10 years to prevent the victim, who is "very afraid of the defendant," from having to testify.
But the county prosecutor's office is "very active at parole-board hearings" and will work hard to prevent Wise from being released too early, Barber said.
In addition to rape, Wise pleaded guilty to two counts of felonious assault, five felony counts of endangering children and two misdemeanor counts of endangering children.
Police were called to the rental home at 5961 Everett East Road, just north of the Hubbard Township line, by someone who had visited the house and observed the boy's bruises.
Wise, his wife, Celinda, and their infant son lived at the house since about May.
"I can't begin to imagine the feeling of fear and helplessness of an 8-year-old child who is looking for help and looking for protection, looking for a way out, and nobody in that house would give it to him," Judge Kontos said.
Police had been called to the house June 20, when Damion Wise held a knife to Celinda's neck and threw an object through the rear window of the car containing their infant, according to reports.
On July 22, CSB was called to the house for a problem involving the 8-year-old, but a caseworker saw no indication that the child had suffered physical abuse.
On Aug. 22, workers discovered that the 8-year-old had been hit in the feet, ankles, lower legs and head with a bat, was wearing a child's dirty diaper because he wasn't allowed to use the restroom in the house, was dehydrated, had black eyes, facial swelling and bruises on his hand, arm, chest, back and stomach, police said.
By agreement, Judge Kontos sentenced Wise to serve his sentences for the felonious assaults and endangering children at the same time as his sentence for rape.
Tiger said the victim and his infant brother are in foster care and "doing great ... but this 8-year-old little boy will likely have memories and fears the rest of his life."