Effort to keep Early College alive
By Harold Gwin
YOUNGSTOWN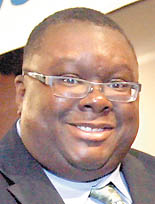 Photo
The president of a local faith-based community organization said he doesn't expect Youngstown State University's trustees to reverse their decision to sever ties with the Youngstown Early College program.
But the Rev. Mr. Lewis W. Macklin II, ACTION president, said he does want the trustees to reconsider what appeared to be a decision to cut the program off cold effective June 30.
High school juniors and seniors in the program should be allowed to remain on track to complete their courses of study at YSU, with a number of them on schedule to earn associate degrees by the time they complete high school, he said.
Youngstown Early College is a partnership launched by YSU and the Youngstown city schools in fall 2004 to put selected high school students on the YSU campus to earn college credits while completing high school.
There are 250 students enrolled this year. Freshmen and sophomores concentrate on their high school curriculum, and juniors and seniors spend more of their time in college courses.
The YSU Board of Trustees, citing costs and a need to focus on other priorities, voted last week to end the university's affiliation with the program with the end of this fiscal year.
That decision became a focus of concern at an ACTION forum on the newly formed Eastern Gateway Community College in Liberty Township earlier this week.
At that session, the Rev. Mr. Macklin and others called for the trustees to reconsider their action. Mr. Macklin said the university needs to allow time for the program to transition to a partnership with another institution of higher learning.
Scott Schulick, chairman of the board of trustees, may have already addressed that concern.
He and Anthony Catale, city school board president, issued a statement earlier this week saying they will appoint a joint committee to oversee the transition of Youngstown Early College.
The committee, which could begin meeting as early as next week, will be charged with putting a plan in place so the program can continue next school year without interruption.
Schulick said it was never the intent of the trustees to cut the program off cold.
The board realizes there are a number of issues to be addressed, and the joint committee will determine those issues and map out a plan of action, he said.
Laura Meeks, president of Eastern Gateway, has already made a commitment for her institution to become the new college partner for Youngstown Early College. Eastern Gateway is preparing to take on that responsibility this fall, but finding space is a key issue, she said.
She would like YSU to allow the program to remain on its campus for another year, with Eastern Gateway providing the college-level courses the students will take.
U.S. Rep. Tim Ryan of Niles, D-17th, and Governor Ted Strickland wrote to trustees asking that the program be allowed to remain on the YSU campus for the 2010-11 school year.