'Zing Zang Zoom' wows circus-goers of all ages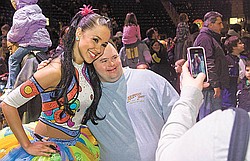 Photo
Phillip Lalama of Boardman smiles as he gets his photograph taken with a circus performer. The audience interacted with performers before the Ringling Bros. and Barnum & Bailey's "Zing Zang Zoom" Circus at the Covelli Centre on Thursday night. The circus continues there through Sunday night.

Photo
Dominique Moore and 3-year-old Stevie Dean are equally excited by a pony at the Covelli Centre. The animal was part of the entertainment before the circus. Bros. and Barnum & Bailey's "Zing Zang Zoom" Circus at the Covelli Centre on Thursday night. The circus continues there through Sunday night.
By DON SHILLING
YOUNGSTOWN
The circus came to town with elephants, acrobats and clowns, but it brought something else for Milan Zordich: memories.
"I used to help set up the circus when it came to town when I was a kid," the 70-year-old Youngstown resident said as he walked the Covelli Centre floor before the show Thursday.
Holding his 4-year-old granddaughter, Nina Santisi, he recalled helping to set up tents and feeding animals when the circus was outdoors on the East Side.
But coming to the circus with gray hair is fun, too.
"I'm here for the thrill of being with a bunch of kids," he said, nodding to his granddaughter. "We have five other grandchildren here, too."
The Ringling Bros. and Barnum & Bailey circus performed its opening-night "Zing Zang Zoom" show to a nearly filled arena.
Originally, seven shows were planned between Thursday and Sunday, but ticket sales were so brisk that an additional show was scheduled for Sunday evening. The arena has about 4,000 available seats for each performance.
One of the clowns, Todd Griffith, said before the performance Thursday that he was looking forward to the run in Youngstown. He recalled the enthusiastic reception the performers received here two years ago.
"The big cities can be a bit jaded," he said.
The crowd responded eagerly when the circus started with a round of musical chairs by the clowns and four men from the audience.
The doors opened an hour early, however, so that the children could see the clowns up close and talk with them. There were magic tricks, acrobatics, juggling and other stunts.
Griffith, a 32-year-old West Virginia native who studied musical theater at The Ohio State University, said it is his favorite part of the evening.
"The actual show is very structured. Before the show is our chance to be unstructured and crazy and different," he said.
Jennifer Tyler was surprised by the craziness of it all. The 21-year-old Austintown resident was brought in from the crowd to briefly work with acrobats. She was asked to lie on her back and balance a large ceramic vase with her feet.
As a ceramics major at Kent State, she couldn't bear the thought of the vase slipping.
"I would have freaked out if I had broken it," she said afterward.