One decision would decide the fate of Shane McCaskey's wife or his daughters.
By WILLIAM K. ALCORN
alcorn@vindy.com
GIRARD

Photo
The Vindicator/Lisa-Ann Ishihara.Kristin McCaskey holds her daughter Makeylah Rae.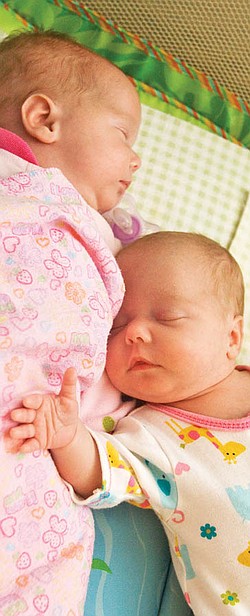 Photo
The Vindicator/Lisa-Ann Ishihara--- L-R Twins Elizabeth Lynn and Makeylah Rae, McCaskey lay in their crib at their parents, Kristin and Shane, residence.
The emergency room nurse did an electrocardiogram and screamed for the doctor.
That's one of the snippets 24-year-old Kristin McCaskey remembers from Christmas night as she drifted in and out of consciousness while suffering a heart attack.
It was a life-and-death situation for Kristin and the McCaskey's twin daughters, with whom she was 31 weeks pregnant.
Her husband Shane, 23, was asked the question no husband and father ever wants to answer: "Do you want us to save your babies or save your wife?"
"Do what you have to do," was his anguished answer.
Shane said his thinking was the faster the babies are out the sooner they could get Kristin to surgery.
"You never think of the worst. You think things are going to get better," he said.
And for the McCaskeys, given the circumstances, it is so far, so good.
The twins, Elizabeth Lynn and Makeylah Rae, weighed 3 pounds 4 ounces and 2 pounds 13 ounces, respectively. They would spend the next five weeks in the hospital.
On Monday, they were taken to the cardiologist for testing, and found that the hole in Elizabeth's heart between the upper and lower chambers is healing normally; and doctors are not concerned about an extra vein from Makeylah's aorta to her lung, Shane said.
Kristin, who is wearing an external pacemaker, goes back to the cardiologist later this month for an evaluation of the damage caused by her heart attack.
"Even though they had not talked about it, he knew I'd want the kids to come first," Kristin said later, about Shane's difficult decision Christmas night.
The obstetrician on call that evening at St. Elizabeth Health Center performed a Caesarean section in the emergency room to deliver the twins. Kristin was quickly taken to the catheter lab and then the operating room where she underwent triple bypass heart surgery.
Because of Kristin's fragile condition, she was not permitted to hold or even touch her girls for several days. She had to wait until New Year's Eve to experience the joy of cradling her babies in her arms for the first time.
"It was scary," she said, "because they were so tiny."
Because Kristin had been put on medication to stop contractions and placed on bed rest for the remainder of her pregnancy, to be safe she and her husband decided to have the family Christmas celebration at their Girard home rather than traveling.
They assumed they were going to enjoy the usual, traditional holiday with their families.
But that evening, Kristin couldn't get her breath on the stairs, pains shot down her left arm and she vomited. Although there is a history of heart disease in her family, she still didn't think she was having a heart attack.
"I took her pulse. It was racing. I said, 'Get her to the hospital," said her aunt, Cyndi Giannakos of Washington, Pa.
Giannakos is staying with Kristin and Shane, a diesel mechanic for Associated Truck Services in North Lima, to help care for the twins and their 2 1⁄2-year-old brother, Landon.
Landon has welcomed the girls into the family. He wants to burp them and gives them kisses when they go to bed, said Shane.
Kristin's father, Patrick Eichensehr of Pittsburgh, and Shane, rushed Kristin to the hospital.
At first, the ER staff thought Kristin was just going into labor. But, they did an EKG and that's when the nurse started calling for the doctor.
Events moved rapidly that night.
In the emergency room, her condition quickly deteriorated to the point of her being in full cardiac arrest.
Kristin went to the hospital at 7:30 p.m., the twins were born at 8:30 p.m., and she went to the catheter lab 20 minutes after that.
Kristin knew there was heart disease on both sides of her family, including her mother, who had a heart attack at 33, and her grandfather who had a heart attack in his 50s.
But she still didn't think she had to worry because she was so young. She believes her pregnancy placed extra strain on her heart and contributed to her heart attack.
When Kristin woke up from bypass surgery, Shane was sitting beside her bed.
"I signed him, asking if the girls were alright. He said they were fine, and I breathed a sigh of relief," she said.
Kristin said she had learned to sign so she could communicate with her grandmother, Linda Jones, who was partially deaf.
The twins were in the hospital's neonatal intensive-care unit for a period of time and came home Jan. 31.
Kristin, who was released from the hospital Jan. 5, is wearing the external pacemaker to make sure she doesn't have an irregular heartbeat. She sends the information gathered by the pacemaker to her doctors via telephone twice a week.
While the twins appear to be doing fine, Kristin said she is far from out of the woods. She said she expects to learn more about the damage the heart attack caused after a visit to the doctor this month.
"At first, the doctors thought I'd need a heart transplant. Now that's further down the line," she said.
"The future scares the crap out of me. It kills me to think my kids might not have their mom or that my husband might to raise three kids alone," Kristin said.
Kristin said she is glad her story is being told.
"I'd like to get the word out that there is no age limit on heart disease," she said.
Kristin said the heart attack has been life changing in many ways. She has new medications to take to control her blood pressure, and an aspirin daily, and has changed her eating habits.
"I'm very, very lucky to be alive," she said.