Pavlik — Back in the Ring
Kelly Pavlik is healthy and happy.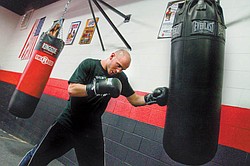 Photo
Kelly Pavlik works out at the South Side Boxing gym. Pavlik is starting preparations to fight Sergio Martinez on April 17.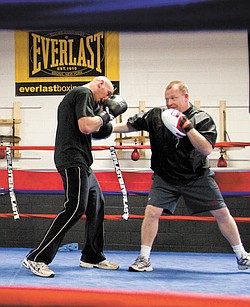 Photo
Kelly Pavlik spars with trainer Jack Loew at the South Side Boxing gym in preparation for his title defense.
By JOE SCALZO
scalzo@vindy.com
YOUNGSTOWN
On Sunday afternoon, a few minutes after the Boardman YMCA opened its doors, Kelly Pavlik was doing an interview on his cell phone when one of the YMCA employees walked up to him and said, "We're going to move you. It's going to get crazy because people know you're here."
Reporter: "I guess you're still famous."
Pavlik: "I guess, huh?"
—
Since mid-December, when Pavlik polished off Miguel Espino in the fourth round of a lively — and rust-filled — middleweight title bout at YSU's Beeghly Center, there's been a noticeable lack of Ghost sightings.
It was a welcome change from 2009, when Pavlik had no trouble making his way into the news and a lot of trouble making his way into the ring. Two successful title defenses in Youngstown, first against Marco Antonio Rubio in February then against Espino — after the second-longest layoff his pro career — were overshadowed by battles with a staph infection in his left hand, contract negotiations with Top Rank, nasty Internet rumors about his personal life and a litany of bloggers ready to pile on a guy who, just two years earlier, was supposed to save boxing.
"I don't let it get to me," said Pavlik, whose image is still recovering from his October 2008 loss to Bernard Hopkins. "Ninety percent of the other fighters out there, they can get away with that. But if I don't fight three times a year or if I have one loss in my career, it's almost like the end of my career.
"But you know what? You just go back out there and silence them."
—
Monday afternoon inside the Southside Boxing Club, trainer Jack Loew and assistant trainer John Hutter are waiting for Pavlik to arrive.
Hutter: "You want the 18-ounce gloves?"
Loew: "We'll see what the boss says. See how the paws feel."
—
Pavlik took the Espino fight on five weeks notice, in part to shake off the rust and in part because the WBC and WBO were threatening to strip him of his titles.
He had previously postponed, then canceled, a fight with Paul Williams. Williams then fought a relatively unknown fighter named Sergio Martinez, surviving a tough bout to earn a majority decision that some (including Pavlik's camp) felt he didn't deserve.
After beating Espino, Pavlik called out Williams, both in the ring and in the post-fight press conference. But Williams' demand for a 50-50 split was flatly rejected by Pavlik's promoters, who instead turned to Martinez.
"I couldn't have called out Williams any more than I did," said Pavlik, who will meet Martinez April 17 in Atlantic City. "It's frustrating to me, but after we take care of Martinez, we definitely want him in the future."
Pavlik's hand was still in bad shape in December — he couldn't fully bend his left index finger and it wasn't until a month before the Espino bout that he could finally get his hand in a boxing glove — but the 21'Ñ2-month layoff has given him a chance to heal.
When a reporter asked him on Monday to make a fist, he clenched both fists, then kissed his left hand.
"Look at that, baby," he said. "Is that good?"
SEmD
Monday afternoon, less than seven weeks from fight night. Loew knows his fighter looks strong but he also knows Pavlik looks thick. Pavlik spent the past few months playing sports and lifting weights. He vacationed in California. He looks strong and healthy.
He also looks like someone who's going to struggle to make the 160-pound middleweight limit. Loew would like to train for a few weeks in Florida but Pavlik views that as a last resort.
Loew: "We're going to get the rubber suit out."
Pavlik: "The rubber suit is pointless. All you do is sweat."
Loew: "That's what I want you to do."
SEmD
The weight isn't the biggest concern. Martinez is.
A 35-year-old native of Argentina, Martinez (44-2-2, 24 KOs) is a crafty, unconventional southpaw who poses the biggest threat to Pavlik's title since he won the belts in September 2007.
"He don't carry the name that Williams does," said Pavlik, "but I think he's a lot more dangerous fighter."
It's an important fight for Pavlik, who is back on regular HBO for the first time since his first title defense, a three-round laugher against Gary Lockett in June 2008.
"I'm glad to be back on the big stage with a big name in the boxing world," said Pavlik. "Everybody seems to be excited about this fight and I'm definitely excited about it."
When asked if it's the biggest fight in his career, Pavlik shook his head.
"I look at it as a very important fight," he said. "I don't think it's a career-defining fight. It was just a bad year. Every fighter has that.
"Unfortunately I get knocked [by critics] more than the others."
The big question is, will Pavlik's fans travel?
The Espino bout drew fewer than 3,500 people, which could be blamed on the fact that it came less than a week before Christmas. On short notice. In the middle of a snowstorm.
Et cetera.
Problem was, Pavlik was used to fighting in front of crowds of 7,000-10,000 fans, most of them his.
When asked what type of fan response he expected next month, he said, "You know what? I have no idea."
Loew thinks Pavlik's fans will return, mainly because it's a good fight.
"If we were fighting another Gary Lockett, I'm sure we'd have trouble," Loew said. "Another Espino and we'd have trouble.
"But this is a big name in boxing and Kelly's still a big name. I think it will be a big draw."
SEmD
Monday afternoon inside Southside again. It's 2:15 and his son is officially 15 minutes late.
Mike Pavlik Sr. shakes his head.
"He is always late," he said. "Celebrities, sports stars. Doesn't matter."
Finally, around 2:20, Pavlik arrives. Everybody had been waiting for him but once he got there, the wait was forgotten.
Sort of the story of his career right now, isn't it?
"If people want to write me off after one loss or one bad year, well, that's to my advantage," said Pavlik. "I'm really anxious to get back into it. To get back on HBO in a big fight in Atlantic City.
"That's where all the magic happened."