The Indians roll over Mineral Ridge
Adam Charles scored 22 points in the 26-point victory.
By Doug Chapin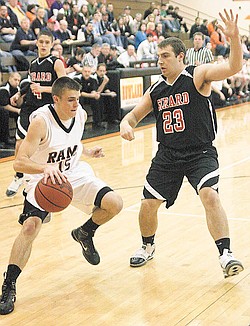 Photo
GIRARD - MINERAL RIDGE - (15) Zachary Kiger tries to drive as (23) Joe Augustine plays defense during their game Monday night. - Special to The Vindicator/Nick Mays
HOWLAND — It's easy for outside observers at this time of year to think that high school basketball teams with poor win-loss records, especially those with a lot of seniors, might be looking forward to the end of the season.
Two teams in that situation, Girard High and Mineral Ridge, opened the Division III boys basketball sectional tournament Monday night at Howland High.
Even though it means at least three more practices, Girard (6-15) played outstanding basketball, especially in the second half, in a 77-51 rout of the Rams (6-15).
"These kids are a little bit different," Girard coach Nick Cochran said about his Indians. "These kids, each day they want to be there, they're excited to practice, they work their butts off. I couldn't be any happier with these guys.
"They're ready to practice like they know it could be their last game," Cochran said. "Whenever they lose, it's their last game and they bust their butts in practice."
Girard faces second-seeded LaBrae on Friday night in a sectional final.
Though they scored the first eight points of the game, the Indians found themselves tied at 17-17 after one quarter.
Mineral Ridge led 21-19 before a 9-0 Girard run put the Indians in control. They led 29-23 at halftime.
Ahead 33-27 a minute into the second half, Girard went on a 13-2 run to increase the lead to 46-29. The Rams were never closer than 11 the rest of the way.
"We played well tonight, and were coming up against a LaBrae team that is very good," Cochran said. "It's going to be a challenge, they know what's in front of them. We've got to come out and attack the basket and rebound and good things will happen."
Senior guard Adam Charles led the Indians with 22 points. Mat Pagano had 10 points and six assists while Michael Bornemiss added 11 points. Joe Augustine and A.J. Weibel added eight points each.
Bobby Cameron had 10 points, Zach Kiger nine and Anthony Pannunzio eight for Mineral Ridge.
Girard split with LaBrae on the season, winning on the Vikings' floor in the second meeting.
"Not looking at wins and losses, we got better each week," Cochran said.
"Every game I thought we got better. We were talking about finishing all year, and I think the last few games we started to finish."
The Indians have a chance to draw a lot of attention to that strong finish with an upset win on Friday.