IN FOCUS: History anchored in steel
PHOTOS AND STORY BY
WILLIAM D. LEWIS
photo@vindy.com
Steel Museum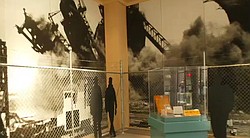 Video
The Steel Museum overlooks downtown Youngstown. Within its walls are the sights and sounds of an industry that dominated the Mahoning Valley for nearly 200 years.
To see The Mahoning Valley's past, how it got to where it is today and where it may be headed, a visit to the steel museum is in order.
The museum, formally called the Youngstown Historical Center of Industry and Labor, overlooks downtown Youngstown. Within its walls, the sights and sounds of an industry that dominated the Valley and had an impact on both the nation and the world for nearly 200 years are preserved.
Newcomers to the Valley or second-generation residents who didn't experience the steel industry can take a tour of the museum, said Dr. Donna DeBlasio, director of Youngstown State University's Center for Applied History.
YSU now manages the museum under a contract with the Ohio Historical Society.
"The mills dominated life in the Valley. It was the smoke, the smell, the light and everything that came from the mills. We have tried to capture those memories in the museum," DeBlasio said.
Located at 151 W. Wood St., the steel museum features a combination of artifacts, large photos — some of which are more than 30 feet long — and videos that tell the story of steel making in a permanent exhibit called "By the Sweat of Their Brow: Forging the Steel Valley."
Life-size reproductions of workers' locker rooms and company- built housing are also on display. These allow people of the present to understand what happened in the past, said Dr. Thomas Leary, a history professor at YSU.
"There's an opportunity to experience something that was important and shouldn't be forgotten," he said. "There's a tendency to say we've got to get past that, it's all gone, there's nothing to learn from it. I think if you take that approach, you may repeat the same pattern."
The museum was designed by architect Michael Graves and opened in 1992 under the auspices of the Ohio Historical Society. In January, YSU took over operations.
Leary says YSU has responsibility for day-to-day operations, and this gives university history students an opportunity to do internships at a museum.
The museum offers group tours with special educational programs for students.
Henry Himes is a YSU graduate student and intern who conducts tours. He also has a personal connection to the museum's genre. His grandfather worked at Copperweld Steel in Trumbull County. "He was a steel worker, and I'm very proud of that," Himes said.
With V&M Star Steel announcing a $650 million expansion of its Youngstown facility, a new chapter of the Valley's steel-making story is unfolding, and the steel museum now will have another story to preserve.