Nebraska's Bo Pelini stresses the values of his Valley home
Nebraska's Bo Pelini stresses the values of his Valley home
By TOM WILLIAMS
BOARDMAN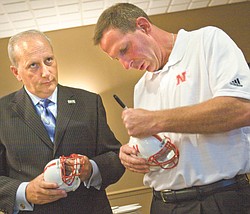 Photo
Bob Hannon, left, president and chief professional offi cer of the United Way of Youngstown and the Mahoning Valley, watches as University of Nebraska football coach Bo Pelini autographs miniature football helmets during the organization's "Champions Among Us" banquet Tuesday at Antone's Banquet Centre in Boardman. Pelini, a graduate of Cardinal Mooney High School and The Ohio State University, spoke about how pride in his roots molded him into a successful coach.
Pride in the roots that molded him into a successful football coach was the theme of Cardinal Mooney High graduate Bo Pelini's speech at the United Way Champions Among Us banquet on Tuesday night.
"I am so proud of not only growing up here, but of the people that I know, so many great friends," said Pelini who is preparing for his third season as the head coach at the University of Nebraska. "I try to work day in and day out to make you guys all proud of what we're doing at Nebraska.
"I know that Coach [Bob] Stoops [Oklahoma], my brother Carl [Nebraska defensive coordinator], and everybody else who's out there in college coaching [from here] feels the same way."
Pelini's speech at Antone's Banquet Centre capped a three-day Mooney reunion the included the Pelini's and the Stoops brothers — Ron, Bob, Mike (Arizona) and Mark (Florida defensive coordinator).
"It's a very principle-oriented place and value-oriented place," Pelini said of Youngstown. "I think about the people that I was exposed to growing up and I feel real fortunate to have grown up here."
Three weeks ago, Pelini's university kicked off a tumultuous week for college football when Nebraska accepted an invitation to join the Big Ten and leave the Big 12.
"I wasn't really privvy to a lot of things that were going on and what was being said," said Pelini, whose opinion was sought by university leaders. "From my perspective, it was really do what's best for the university as a whole. It went well beyond athletics.
"It really goes to the academics side, the research ability of the university and how that was going to be enhanced over the long haul and what was in the best interests of the university as a whole," said Pelini, who played for Ohio State. "I trusted the powers that be that they would make the best decision for the university.
Asked to evaluate the move, Pelini said, "We were in a great conference and we're just moving to another great conference.
"I'm familiar with the Big Ten, I'm familiar with everything that comes along with coming back to the area here from playing in the Big Ten," Pelini said. "But I'm not as familiar with the teams we're going to be playing so I have a lot of work to do next offseason."
Pelini's 2002 decision to try coaching at the collegiate level has paid off.
"It was a tough decision [with] nine years invested in the NFL," said Pelini of becoming Nebraska's defensive coordinator. "It was really a decision that my wife Mary Pat and I made together. We wanted to see what that lifestyle would bring for our family.
"My goal was to someday be a head coach in whatever level, so I decided it was a little bit of a gamble but one that worked out."
The journey had some ups and downs. Nebraska fired Frank Solich after the 2003 season and hired fired Oakland Raiders coach Bill Callahan instead of Pelini.
Oklahoma's Bob Stoops hired Pelini as co-defensive coordinator and the Sooners played Southern Cal in the BCS Championship game.
From 2005-07, Pelini was defensive coordinator for LSU, which defeated Ohio State in the BCS game following the 2007 season.
When Nebraska fired Callahan after the 2007 season, Pelini was hired.
Pelini said being head coach isn't much different.
"Now I apply my beliefs and my principles to the football team as a whole rather than just the defensive side," Pelini said. "You're always learning."
As for coaching against the Buckeyes, Pelini said, "I've done it a couple of times before but it will be different especially when eventually we walk into Ohio Stadium.
"It's a special place and a great university," Pelini said who attended Ohio State from 1986-90. "Obviously, Coach [Jim] Tressel has done a phenomenal job so it will be a really big challenge for us. I look forward to the challenge. With all the tradition with the Big Ten, it's a great fit for our university and we really looking forward to the future."