McCarthy's next mission: Rocky Mountain Way
By TOM WILLIAMS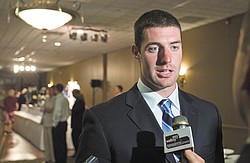 Photo
Also honored at Tuesday's dinner was Kyle McCarthy, football standout at Cardinal Mooney and Notre Dame University, who recently was signed as free agent by the Denver Broncos.
BOARDMAN
Denver Broncos rookie safety Kyle McCarthy says getting used to the higher altitude of Colorado is a challenge,
"Absolutely, it was a big adjustment, way more than I thought it was going to be," said McCarthy at Tuesday's United Way Champions Among Us banquet at Antone's banquet Center. McCarthy and Nebraska head coach Bo Pelini were the banquet speakers.
McCarthy, who played for Notre Dame then went undrafted in April's NFL draft, signed a free-agent contract with the Broncos.
He recently returned from Denver after minicamp and Organized Team Activities.
"After about a week or so, you get used to it and you start feeling like you used to," McCarthy said of the higher altitude.
So where does it affect a conditioned athlete?
"All over," said McCarthy, a 2005 graduate of Cardinal Mooney High who played 38 games for the Fighting Irish. "You feel like you can't breathe fast enough, you feel it in your chest and that's going to affect your conditioning.
"You just know that you are going to get used to it eventually and you've just got to keep working," McCarthy said.
Asked which NFL team he cheered for growing up, McCarthy said, "It doesn't matter any more, I'm a Broncos fan, that's all that I'm thinking about."
His mission is to do well enough at the Broncos' training camp later this month to earn a spot on the 53-man roster. Special teams aren't a problem as he participated on Notre Dame's special teams squads.
McCarthy said he loves the "intensity of special teams. You're out there for one play at a time compared to defense with a number of plays strung together.
"You've got guys out there putting all that they have into that one play," McCarthy said. "It's an intense play and an exciting play in a football game, especially for a player."
McCarthy believes Notre Dame has prepared him for the next step.
"Absolutely ... high profile in a fishbowl like that, you're not going to find a bigger program in the country. It's prepared me so well for on and off the field to the next level."
It won't be easy.
"It's certainly a big jump, a lot different, a lot bigger athletes, better guys but I'm up for the challenge. I'm excited for the whole opportunity, and I can't wait to get back there and get the pads on.
"We get about two weeks off then head back out to Denver in the middle of July for training camp. [I'm] in for the long haul then."
He agrees there is pressure.
"The NFL is a business and it's a privilege to play in the NFL," McCarthy said. "I'm going to do everything I can to stick around and stay there for a long time."
McCarthy said he's enjoying his time back in Youngstown which included helping out at Mooney's Football Camp of Champions.
"I love coming back home," McCarthy said. "Anybody who knows me knows I love this area and coming back to be with friends and family. Anything I can do to support the United Way and this town, I'm going to do.
"Cardinal Mooney is close to my heart. I grew up there, learned a lot there and I owe a lot to Cardinal Mooney and what I learned there."