Cruze on in to Trumbull County Fair
By ED RUNYAN
runyan@vindy.com
BAZETTA TOWNSHIP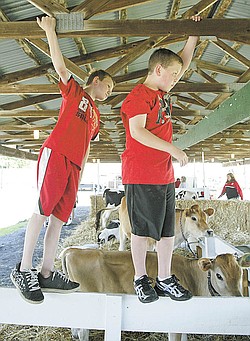 Photo
Hanging out in the cow barns at the Trumbull County Fair Tuesday were John Bates, left, of Kinsman and Brandon Elsea of Hartford. Both are 11.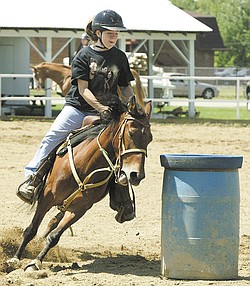 Photo
Mariah McGeehen, 13, of Newton Falls, is a picture of concentration as she guides her horse, Starr, around a barrel in preparation for 4-H competition at the Trumbull County Fair. Fair officials said the number of 4-H participants is up for this year's events.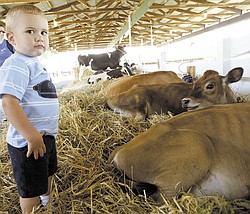 Photo
Trevor Frantz, 2, appears to be a bit apprehensive as he gets a close look at cows at the Trumbull County Fair. Trevor was visiting the fair Tuesday with his mother, Holly Frantz, of Vienna. The 164th annual event runs through Sunday at the fairgrounds at Hoagland Blackstub and Everett Hull roads in Bazetta.
The opening ceremonies for the Trumbull County Fair on Tuesday evening featured the newly crowned members of the Senior 4-H Royal Court and Junior 4-H Royal Court, plus introduction of a variety of elected officials.
But perhaps the biggest celebrity in attendance sat silently off to the side of the Historical Stage to the east of the Dairy Parlor: a black 2011 Chevy Cruze, fresh off the assembly line in Lordstown.
Jim Graham, president of United Auto Workers Local 1112, whose members are building the Cruze, invited everyone to "get in, look around" the car and see why he's so optimistic that the new small car will be a big hit among car buyers and why that success will be an economic "catalyst" for the area.
"The Cruze didn't happen by accident," Graham said. "A lot of people worked very hard."
The car will be on display all week near the grandstand, though fair organizers say it probably won't be available for inside inspection all week.
Graham said he was also excited about the activities taking place this summer at the downtown Warren Amphitheater, especially the GM-Pepsi Then and Now Cruze-In taking place July 24.
The Cruze-In will take place from 2 to 6 p.m. on and around Courthouse Square and will feature all of GM's 2011 cars and a caravan of cars that were built in Lordstown over the years. They will escort a veiled Chevy Cruze to the amphitheater, where it will be unveiled.
Revolution and Phil Dirt and the Dozers, bands playing music of the Beatles and Beach Boys, will play at the amphitheater at 6:30 p.m. and 8:30 p.m., respectively.
Commissioner Frank Fuda paid tribute to a part of the Trumbull County Fair with a rich tradition: the weather, which for a change is expected to be nearly flawless.
"I've been a commissioner for three years, and for three years we've had nothing but rain during the fair," Fuda said, adding that the forecast calls for "nothing but sunshine until Monday, so I'm looking forward to a record-breaking year."
Winners of fair royalty contests Tuesday are:
Meagan Jackson, Senior 4-H Royal Court queen; and Thomas Shay, 4-H Royal Court king.
Jane Gibson, Senior 4-H Royal Court princess; and Brian Benton, Senior 4-H Royal Court prince.
Tatum Sheets, Junior 4-H Royal Court queen; and Jimmy DePizzo, Junior 4-H Royal Court prince.