Bear that wandered area dies from fall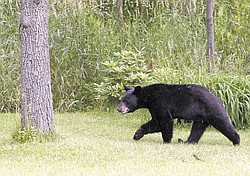 Photo
Residents in the 1100 block of Mathews Road in Boardman spotted this young black bear behind their homes.
By HAROLD GWIN
STREETSBORO
The young black bear that spent several days entertaining and sometimes startling residents of Boardman and Poland earlier this month has died.
Authorities said the bear, identified by a numbered ear tag, died in an apparent fall from a utility pole on Page Road in Portage County early Tuesday.
A resident of the area spotted the bear lying at the base of the pole shortly before 10 a.m.
Jamey Graham, spokeswoman for the Ohio Department of Natural Resources' Division of Wildlife, said it was initially thought the bear had been hit by a car or electrocuted when it climbed the pole, but there were no external injuries or burn marks consistent with either theory, she said.
A wildlife biologist determined that the bear had suffered a broken nose, leading authorities to conclude that it apparently fell from the pole and died of its injuries. There were deep claw marks evident on the pole, Graham said.
The bear was 2 years old and weighed about 150 pounds.
"He'd been into a lot of bird feeders," Graham said, noting that an examination of the bear's stomach contents showed birdseed and raspberries. There were bird feeders on the property where the bear was found, she said.
Authorities had used strawberry shortcake to lure the bear into a live trap in Boardman on June 21 and then relocated it to a rural area in northern Trumbull County, about 40 miles from where it died.
Graham said the Ohio Division of Wildlife is still tracking several other bears that have been very active in the region, one in Trumbull County, another in Columbiana and a third in Jefferson County.
It's not uncommon for young male bears to be seen wandering through the region at this time of year as their mothers drive them away in preparation for mating season.