Cyclists lend hands to Habitat project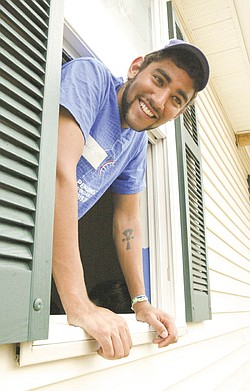 Photo
Bike & Build volunteer Hassam Shalla of Philadelphia checks out a window at the Mahoning County Habitat for Humanity house under construction on Maranatha Drive in Youngstown.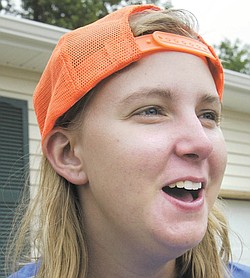 Photo
Bike & Build volunteer Paige Hicks

Photo
Monica Craven, far right, executive director of Mahoning County Habitat for Humanity, gives instructions to a group of 30 cyclists from Bike & Build, a nonprofit organization that helps build affordable housing as it travels a cycling route. The group pitched in at a Habitat house on Maranatha Drive in Youngstown.
By LINDA M. LINONIS
YOUNGSTOWN
As if bicycling on a 3,863-mile trek from Providence, R.I,, to Seattle, Wash., weren't enough, a Bike & Build group also pitched in 60 hands to help out at a Habitat for Humanity house.
The 30 bicyclists, ranging from 18 to 25 years old, arrived Sunday at St. John Episcopal Church, 201 Wick Ave., where they participated in worship, had their meals and stayed the night. The group also stayed at the church Monday and planned to leave this morning for Akron.
Monday morning saw them off to the under-construction Habitat for Humanity house at 8 Maranatha Drive, located off Jacobs Road. There, they painted, caulked, hung trim and worked on siding.
Paige Hicks, one of four Bike & Build leaders, said the group left on its journey June 15 and aims to complete it by Aug. 18. "We average about 70 miles a day," the 21-year-old said. The bicyclists aren't permitted on interstate highways, so they travel secondary roads.
There are two requirements to participate. A bicyclist must train and ride 500 miles before the actual excursion. Each bicyclist raises $4,000 to participate.
"About 55 percent of the funds go to affordable- housing projects," Hicks said. Each cyclist also is able to donate $500 to the charity of his/her choice. The remaining money underwrites the trip. A portion of the proceeds from this tour funded a student-built Habitat for Humanity home in Providence, R.I.
Of the trip, Hicks said a general route is mapped out. She and the other leaders, Gabe Ofiesh, University of Colorado graduate; Brian Hochman, Applachian State University; and Hailey Dady, University of Nebraska graduate, work on the specific roads they'll travel.
Hicks said the bicyclists usually rise at 6:30 a.m. and are on the road by 7:30. "Even though most of the riders are athletic, this is a shock to your system," she said. "This is an extreme ride. ... We're past the point of exhaustion."
Hicks, who is on her second trip, said she is gratified in seeing "how money is spread around to many charities" that focus on affordable housing and how "some money in the right places does so much good."
Hicks, a biology major at Brown University in Providence, said the riders use bicycles from Giant Bicycle Co., which also donates to the cause. At about 2,000 miles, the riders will put on fresh tires.
Ofiesh, 25, is on his third excursion. "It's amazing to see participants be transformed as the trip progresses," he said. "They're talking about service-oriented lifestyles."
Ofiesh said the group gets to see first-hand how affordable-housing projects change people's lives. "Participants see how they can help make changes to make a better world."
"This is the best thing I've ever done," said Ofiesh, who was a social worker in New York.
He predicted that this age group will be known as the "nonprofit generation." "I think many of us are more concerned about how we can help people and less concerned about making a lot of money."
On her first trip, Maddy Sturm, 18, a student at Dartmouth College, got involved in Bike & Build after working at a restaurant and learning that some co-workers had affordable-housing issues. "I worked on set construction in high school," she said, noting it has helped on building projects.
Chaz Firestone, 22, of Toronto, Canada, and a graduate of Brown University, admitted the ride is a test of endurance. "My training was more flat miles," he said with a smile. "This has challenged me in a way I've never been challenged before."
Firestone added that the trip opened his eyes "to the appeal of community service."
---
Bike & Build funds projects planned and executed by young adults. In the last seven years, it has donated $2.3 million toward affordable housing, contributed more than 63,500 hours to building affordable housing, pedaled more than 4 million miles and involved more than 1,000 young adults.
What: Bike & Build, a 501(c)(3) independent nonprofit organization, organizes cross-country bicycle trips that benefit affordable housing groups. Participants are from age 18 to 25.
When: Cycling trips take place during summer months.
Where: There are eight routes and two special rides in the northern, southern and central United States. Participants are housed and fed at churches, community centers and schools along the routes.
How: Bike & Build is an independent organization and supports a variety of affordable-housing organizations throughout the country. It often works with Habitat for Humanity affiliates along the routes. Monica Craven, executive director of Mahoning County Habitat for Humanity, said the "influx of 30 volunteers in one day was great." The volunteers worked on a house for Vera Ellis and her three teenagers. "They have a lot of enthusiasm," Craven said of the bicyclists. She supervised the volunteers in their work, and they nearly completed her "to do" list.
Details:To find out more about the organization, visit www.bikeandbuild.org. The website also tracks each cycling group. On Monday, the website noted that the group in Youngstown had traveled 700 miles in its 3,863-mile trip and was in day 17 of the 68-day excursion. Today, they set out for Akron. A 15-passenger van rides along with the cyclists, who travel in small groups of four to five riders.
More like this from vindy.com