Gem of a show in Girard dazzles spectators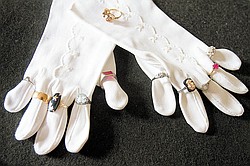 Photo
A personal collection of vintage jewelry was on display Sunday at the Barnhisel House on State Street in Girard. The collection is owned by Colette Chuey, vice president of the Girard Historical Society.
By ELISE McKEOWN SKOLNICK
GIRARD
Rings sparkled on the fingers of gloves, and necklaces glittered from their places on doilies. Pins and other jewelry were displayed with them.
The vintage jewelry display is the latest show at the Girard Historical Society's Barnhisel House on State Street.
"We change [shows] every season we're open," said Sally Curl, a member of the historical society.
Shows run from the house's May opening until November. The displays also are changed for Christmas.
"It just makes it interesting for people to come and see," Curl said.
Annita Homlitas of Warren was driving by Sunday when she saw the open sign and decided to stop for a tour.
"We looked at everything," she said. "We had a wonderful tour. Just to see how people lived back then — the beautiful jewelry, the clothing, the furniture — everything, was very interesting."
After touring the house she stopped again at the jewelry display to take a closer look.
The collection belongs to a member of the historical society, Colette Chuey. The pieces are from the early 1900s to the 1950s.
Also on display was silver flatware George Lotze made in the Lotze jewelry shop that was located in Girard and a tiny bib pin from the 1902 Sears Roebuck catalog. The pin was found on the grounds of the house.
Traci Cochran of Niles said the jewelry display was a nice addition to the tour.
"That's where our daughters mainly stopped, what their main focus was," she said.
"It was cool," said Mikayla Cochran, 12.
Raegan Cochran, 8, liked a pillow on display with the jewelry. Mikayla agreed that was her favorite part of the display.
Raegan also liked the necklaces, particularly the rhinestone pieces that sparkled.
Vicky Palipchak of Niles was excited to see a Stringer jewelry box in the display case. She has one just like it. Her wedding rings were purchased at the Girard store in 1969.
"I really liked seeing the box, she said. "I was like, 'I've got one just like that at home.'"
Her interest in the house went beyond the jewelry display, however. She lived in the Barnhisel House for five years from the late 1960s to the early ' 70s.
"It's very nice to see all of it now," she said. The pink walls in the kitchen are gone, she noted, and one of the two staircases has been removed.
The Barnhisel House, built around 1840, was the home of Henry and Susan Barnhisel. Later, the family of Joseph W. Smith lived in it. It is one of the oldest remaining structures in Girard.
It's open for tours from 1 to 4 p.m. on the second and fourth Sundays of every month.