HAPPY 100TH BIRTHDAY: Eva Siciliano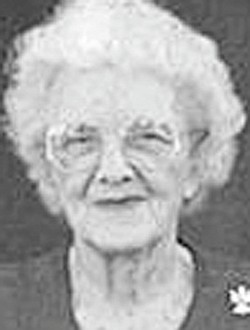 Photo
Born: July 8, 1910, in Youngstown.
Parents: Agnes and Reginold Ayers, who emigrated from England.
Siblings: Two sisters, Daisy, 86, and Ruth, 96, who live in Hermitage, Pa., and a brother, Jack, 94, who lives in the family home in Masury,
Married: Eugene Jay Siciliano, who is deceased, and has lived near his family in Farrell for many years.
Employed: Her first job was working at Murphy's Five & Dime in Sharon, Pa. She worked at a shoe repair shop during the depression and as a secretary at General American Transportation Corp. before retiring.
Celebration: Relatives from Pennsylvania, Ohio, Wisconsin, Nevada, California, Missouri, Colorado and Canada will honor her at a picnic July 10 at Buhl Park.