Liberty Fire Dog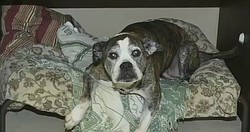 Video
Liberty Fire Department Station 35 has a house guest.
By Ashley Luthern
aluthern@vindy.com
YOUNGSTOWN
Montana loves to
go to the office.
"I say, 'Do you want to go to work?' and she picks up her leash in her mouth," said Donnita Valerio, who owns Montana — or 'Tana as she's usually called — a 5-year-old Beagle-Yorkie mix.
Valerio works at the Mahoning County Board of Developmental Disabilities and began bringing 'Tana to the Javit Court center in Austintown three years ago.
Valerio works with adults and seniors who have developmental disabilities. As much as she likes having 'Tana with her, her clients like the dog even more.

"It's wonderful," Valerio said. "She likes to come, and they really like her."
'Tana makes weekly visits to the board and is sometimes accompanied by Jack, a golden retriever, owned by Becky Borman of Canfield, a habilitation coordinator for the board.
"It's gratifying for me to bring Jack because I know what he gives me at home," Borman said. "I'm so happy to share my day life, too."
Today is Take Your Dog to Work Day, which was created by Pet Sitters International in 1999 as a way to promote pet adoption. 'Tana and Jack are not limited to one day in the workplace, and they join a growing number of pets who go to their owners' job.
The number of businesses participating in Take Your Dog to Work Day has increased and diversified, with marketing firms, universities, churches and even a fine china distributor signing up, said Beth Stultz, marketing specialist for Pet Sitters International.
"It's an easy way to make a difference by promoting pet adoption, and a great morale booster as companies have had to cut back on benefits and have layoffs," Stultz said.
Lucy, a 10-year-old boxer-American pit mix, was adopted by the Liberty Township Fire Department about six years ago after she was found in a Dumpster by one of the firefighters. She does not accompany the firefighters on emergency calls but travels to the township building and tries to find sunny spots at the fire station, where she now resides.
"We put an ad in the paper, we put signs out and called the vets around here to see if they knew of a missing dog," said Roberta Martin, fire department secretary. "... Then no one came after her, so we decided to keep her. It was unanimous among the firefighters, and we got permission from the township."
Stray or abandoned dogs are common in the tri-county area, said Nikole Baringer, chief executive officer of Animal Charity's Humane Society.
"There are a lot of them," she said. "We get five to 10 calls per day about dogs that are abandoned or are in neglectful or cruel situations."
People interested in pet adoption can visit the web sites of Animal Charity (animalcharityofohio.org) and Angels for Animals (angelsforanimals.org) for adoption information, including photos of pets.
Baringer also offered tips for people who are bringing their dog to work today.
"They should make sure that their dog is social," she said. "...They should look at space for the day. Are they going to easily be able to take it outside to get exercise and go to the bathroom. Will they have a place for water, too."
In 'Tana's case, her petite frame and friendly nature have made her a fixture at Valerio's workplace.
"'Tana's more like a person than a dog," Valerio said.