Glacier baseball facility a year-round diamond jewel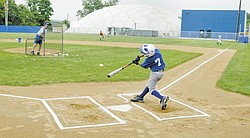 Photo
Batting practice is taking place at the outdoor field at the Glacier Baseball Facility in Struthers. In the background is the dome and batting building.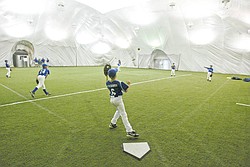 Photo
Youth baseball players practice at the Glacier Baseball Facility in Struthers inside the dome.
By Bill Sullivan
STRUTHERS
If the baseball gods discover they are missing a small slice of their diamond heaven, likely they should begin their search in a nondescript corner of Struthers, Ohio.
There, next to a coating factory, on a former slag heap, a plot of land not much larger than a football field holds the Glacier baseball facility.
What the gods will find is a park, under the watch of Anthony Vross, that is finer than the wildest dream of Abner Doubleday.
The Glacier facility has been developed to offer total baseball: A year-round location to teach the way the game is meant to be played.
Vross borrowed an idea from another sport — soccer — in building the complex and developing its programming.
"It's all about the training aspect of it," Vross said, his comments punctuated by the ring of a bat in the background.
"Training and development. [Baseball] is a skill sport that's all about repetition and good repetition."
He built his skill set while on the board of the Canfield Little League, a time he noticed that youth baseball in the area was limited by the weather.
"Everybody puts a lot of emphasis on the fields outside and I started realizing about maybe two months out of the whole year we use these fields," Vross said. "There was no large facility where you can do an infield or long toss. May, June you're done."
The term Glacier, by the way, was chosen to represent the Mahoning Valley since much of Mill Creek Park was carved by an ancient glacier.
That's when the groundwork for the state-of-the art Glacier park was laid. Some communities have transformed old warehouses into indoor batting barns. Not here.
Rather than a batting barn, this park has something closer to a batting penthouse with four stations designed for individual pitching or batting instruction. Of course it's heated and air conditioned. Attached is a modern weight room for the older players.
Through an air lock resembling an impressive NASA doorway, players reach the inflated dome, tall as a four-story building.
Vross explained that in February, when much of the Valley was hit by a record snowfall, a hundred young ballplayers worked on the fundamentals of baseball in that heated dome that has a 120-foot by 105-foot footprint.
Two days a week there is House of Speed training inside the dome since speed training is such a vital component to baseball instruction.
But, baseball takes dedication, a fact demonstrated by the families who drive 75 minutes, one way, to practice here.
Young players were allowed to name the structures since it's their park as well as the community's. They call the batting barn "The Ice House" and the dome "The Igloo".
On weekends last winter area teams used the two indoor buildings for two-hour periods, putting 28 teams through the paces at no cost.
It's more than a coincidence that the two area high school baseball teams that recently played in the state tournament — Springfield in 2009 and Columbiana in 2010 — took advantage of the winter practice times.
Scott Knox is the manager of Columbiana High and of the Glacier 18U team.
During a recent visit to the dome, the Glacier 9-year team was working on their base running skills. One participant was Cole Kosco, 9.
Cole, whose grandfather Andy Kosco played in the major-leagues for 10 years (1965-74), said he enjoys the facility and the techniques he's been taught thus far.
"It's really big. It's fun," said Cole. "I learned how to hit it to opposite fields."
He said that he's thought about how his grandfather played professionally and what it might take to follow in his footsteps.
"It would take a lot of practice," Cole said.
Vross added that when the teams are practicing indoors, it's the equivalent of "baseball double sessions."
"This is what I want to do when I retire," said Vross, 49. "This is not something just for now; it's for the future.
"I've loved baseball my whole life; I've been around it my whole life. We felt like it's a community thing, too."
He's the president of the Glacier organization and said his wife is a baseball widow.
A non-profit organization, this obviously is not a slapdash effort. Rather, through private funds and donations, Glacier park is the culmination of a baseball dream.
"We can get good players great and great players even greater," Vross said.