Poland's Erin Gabriel was dominant on the mound and at the plate for Bulldogs
Athlete of the Year: Erin Gabriel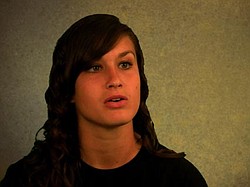 Video
By TOM WILLIAMS
POLAND
Poland High sophomore pitcher Erin Gabriel can't tell you exactly when she suffered a stress fracture on her pitching arm.
"I just noticed a little bit of pain, wrapped it, thought it was tendinitis," Gabriel said. "Then it got progressively worse. And then I started thinking yeah, there is something wrong here."
During Poland's run to the Division II state championship game, Gabriel strapped a hefty ice pack to her arm after her dominating performances on the mound. Her arm wasn't the only thing hurting at the ballpark. Gabriel's ability to combine zip with movement made her pitches had opposing batters despairing.
"It's not always about speed with her," Poland coach Reid Lamport said of his ace's control.
In Poland's seven postseason games, Gabriel tossed three no-hitters plus a five-inning perfect game. One of those no-nos came in the regional final, a 5-0 victory over Navarre Fairless that sent Poland to it's second state tournament in 10 seasons.
After a 5-4 victory over New Concord John Glenn in which the Bulldogs gave up three unearned runs in the state semifinal, Poland's season ended with a 1-0 loss to Hebron Lakewood in the title game.
"You tell me how tough she is," Lamport said after the Bulldogs finished 30-2. "You saw her determination, you saw her will and that's the reason why she's being recruited all over the country.
"Obviously she's a good pitcher, but [it's just] as much for her demeanor in the circle," Lamport said.
Gabriel finished 21-1, pitching 141 innings and allowing just five earned runs. One of them — Kelsi Thompson's second-inning homer in the title game — was the only homer she gave up this season.
"It was such a pleasant experience to get to catch her the past two years and see her grow up as a person and a pitcher," Poland senior catcher Megan Hirschbeck said. "She doesn't act like a sophomore, she acts like a senior."
At the plate, Poland's lead-off batter drove in 28 runs while compiling a .560 batting average that included eight doubles and three homers. No wonder she was named Gatorade's Ohio player of the year. After the season ended, she was one of 17 players selected to the 2010-11 USA Softball Junior Women's National Team, the first Ohio player named to the national program.
As an example of brotherly love, she says she's not sure she's the best athlete in her house. Her brother, Sean, was a key pitcher for Poland's baseball team and will play for Youngstown State next spring.
After her five-inning perfect game in which she struck out all 15 Edgewood batters, Gabriel was asked who's better.
"Definitely my brother, he's great," Gabriel said. "We have a little bit of a rivalry, I'm not going to lie.
"We always try to outdo each other, but we do always support each other, we come to each other's games, we really hope each other does well," Gabriel said. "We kind of make fun of each other if someone does something bad then our parents kind of have to split us up."
Neither of her parents — George and Lori — were ballplayers growing up.
"He's studied really hard to make what I love happen," said Gabriel of her father's efforts to help her become a stronger pitcher. "I really appreciate everything he's done."
Dom DeLuca, one of Lamport's assistants, has been Gabriel's pitching coach since she was 7. Teammate Jenna Modic's family introduced them.
"He's great," said Gabriel of DeLuca. "Coach Lamport is kind of like a father figure to me. I can go to those two for anything I need — they are there and they support us all."
Among her role models are softball players Jennie Finch and Lisa Fernandez, and her mother.
"I'm definitely a lot like her," Gabriel said. "She's raised me well, pretty headstrong."
She also credits Valley Extreme's Tyler Sinn and Dave Harrison for being big supporters.
Despite being a solid hitter, Gabriel said she prefers "pitching, without a doubt, just the feeling and the adrenaline you get when you strike someone out in a hard at-bat.
"Hitting the ball you get three or four of those in a game but striking someone out is pretty special to me and I just love the feeling I get afterwards," Gabriel said.
As the season progressed, college coaches came to watch her play.
"I'm really not leaning towards a college yet, but I visited Washington, UCLA, Tennessee, Kentucky, Arkansas, Miami of Ohio, Notre Dame," Gabriel said.
Her scariest moment came against Fairless when she was struck by a pitch on her tender arm.
"I think if it [had struck] an inch higher, I wouldn't have been able to pitch," Gabriel said. "So I was really lucky. It hurt to grip the ball a little bit, but I wasn't worried."
She says she's interested in studying psychology or physical therapy.
"I'd like to get my master's and coach [in Division I] when I'm done — I think that would be my dream job," Gabriel said.
A 4.0 student, Gabriel also plays varsity soccer, giving her arm two months off.
Back to that sibling rivalry, one question will remain unanswered.
"My Mom made this rule — she won't let my brother hit against me because she doesn't want to see who would win the battle at bat," Gabriel said. "My Dad goes [along but] I'm sure he'd like to see that.
"It's definitely a rivalry between me and my brother but it's a lot of fun, we love each other," Gabriel said.