GM hopes Cruze is No. 1 small car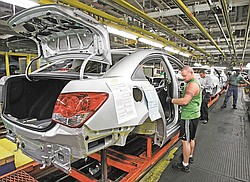 ASSOCIATED PRESS

Photo
In this photo made June 15, 2010, Matthew Mines assembles a test model of the new Chevrolet Cruze at General Motors' Lordstown Assembly Plant in Lordstown, Ohio. (AP Photo/Mark Duncan)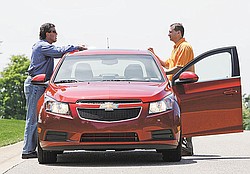 ASSOCIATED PRESS

Photo
In this photo made June 9, 2010, General Motors engineers Wayne McConnell, left, director of vehicle performance integration and Brandon Vivian, performance manager for the Chevrolet Cruze confer during a road test of a pre-production model in Milford, Mich. With the Chevrolet Cruze, General Motors is on the verge of building its first decent small car. Yet it won't be easy for the automaker to win over a skeptical America. People know that Nothing Works Like a Chevy Truck, but are they willing to gamble on a company with a long history of small-car disasters. (AP Photo/Paul Sancya)
Associated Press
ANN ARBOR, Mich.
General Motors thinks it can finally sell a good small car.
The company, which has a past littered with compact wrecks such as the unsafe Corvair and rusty Vega, will roll out the Chevrolet Cruze in September — betting it can attract younger drivers and succeed in the most competitive segment of the worldwide auto market.
GM owners may know that "nothing works like a Chevy truck," but the little Cruze is a big gamble.
"They can't afford to get it wrong," said Michael Robinet, an automotive analyst with CSM Worldwide in Michigan.
The Cruze follows another GM small-car flop, the Chevy Cobalt, which failed because it looks dated, is noisy, has a chintzy hard-plastic interior and doesn't perform as well as competitors. Americans bought just 105,000 last year, compared with about three times as many Toyota Corollas.
GM also must overcome history. Dating to the Corvair in the 1960s, its executives viewed small cars as money-losers because of low prices, high U.S. labor costs and American drivers' hunger for cheap gas and larger vehicles.
"They really haven't spent any time or money on these vehicles," said David Champion, senior director of Consumer Reports' auto-testing department. The Cobalt, introduced in 2004, "came out trying to be competitive in that market but always languished behind."
That has to change if the Cruze is to help save GM.
Champion said the car must be as reliable as the Corolla or Honda Civic, the top-selling U.S. compacts. But dependability has been a problem. Consumer Reports gave its coveted Recommended Buy rating to only seven of 30 GM models in its April issue, mainly because of spotty reliability. No GM small cars got the label.
Last month, on the final drive to check for problems before full-scale Cruze production starts, GM engineers were candid with a reporter about past compacts, saying they were mediocre because GM put controlling costs before all else.
As a result, GM missed the small-car boom last decade. Compacts and subcompacts grew from 21 percent of the U.S. market five years ago to 33 percent now. J.D. Power & Associates predicts that will rise to 35 percent by 2013. And small cars are even bigger overseas.
Yet GM drew only 8 percent of its U.S. sales from small cars last year, compared with more than 20 percent for Toyota and Honda.
When the Cobalt was in development in the early 2000s, GM set out just to make it competitive, not a market leader, said Wayne McConnell, a GM engineer in charge of vehicle performance. Ambitious sales targets and plans to attract new buyers were changed after cost estimates were tallied.
Customers noticed, bypassing Chevrolet for Corollas and Civics.
Yet engineers say the new GM leadership has figured out that there's only a small cost difference between mediocre and great. Now they can spend a little more to make a car better, as long as they work with parts companies to control costs. The new management, they said, has learned from recent new models that people will pay a little more for quality.
In the past, the early- generation Cruze might have made it to showrooms, but it was held up last fall by managers unhappy with its performance. Production was delayed from April to August.
The transmission was redone, the turbo fixed and noises quelled. Reuss now calls the engine and transmission "brilliant," balancing trade-offs between fuel economy and performance. An Cruze Eco version is expected to get 40 mpg on the highway.
On the test ride along pitted roads north of Ann Arbor, the Cruze was quieter than competitors that GM brought along and seemed to handle better.
Engineers were happy with it, although tweaks were ordered for minor transmission and noise problems.
"They're really working hard at quality," Consumer Reports' Champion said. "But it's like moving the Titanic."
Champion, who drove an early Cruze, said it handled well, looked nice and had a high-quality interior.
"I thought it was an impressive vehicle," he said.
GM will ask about $17,000 for the base Cruze, a little more than competitors, but GM said it has more standard features. A version with leather seats and other goodies starts around $22,700.
The company is confident it can make money on the Ohio-built Cruze because GM's costs are lower than before bankruptcy.
Total hourly labor costs dropped from $73 in 2007 to $58 now due to concessions from the United Auto Workers including lower pay and benefits for new hires and a union trust taking on health-care costs for 700,000 retirees. Debt fell from $53 billion to $14 billion.
Copyright 2010 Associated Press. All rights reserved. This material may not be published, broadcast, rewritten, or redistributed.