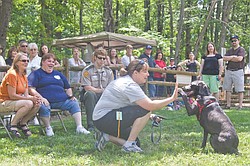 Photo
Emily McVicker of Bristolville and her dog Lady show the judges how they give high-fi ves to each other. Lady, an 11-month-old charcoal Labrador retriever, won the "Most Unusual" trick competition at Doggie Days at Mosquito Lake Dog Park in Bazetta on Sunday.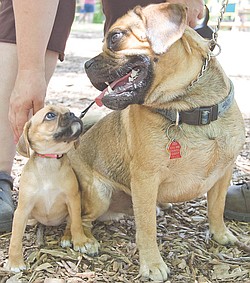 Photo
Maggie, 9 weeks old, and Buddy, 2 years old, of Cortland get playful while taking part in Doggie Days activities at Mosquito Lake Dog Park.
Competing canines kiss, twirl, high-five at fundraiser for Trumbull dog park
By SEAN BARRON
BAZETTA
Most people EQUATE the dog days of summer with August, but they came a bit early this year — at least to Mosquito Lake State Park.
That's because plenty of dogs filled a section of the park, on state Route 305, to be part of Sunday's Doggie Days event.
These animals, however, were here for more than a leisurely afternoon walk or run: They proudly showed off their talents and tricks.
The 90-minute competition, put on by the Mosquito Lake Dog Park friends organization, allowed the animals to perform in a dog talent show that included best large and small dog tricks and the most original trick. Also part of the festivities was a search-and-rescue canine demonstration.
Additionally the event was a fundraiser to benefit the 5-acre fenced-in dog park that opened July 17. The park is divided to accommodate large and small dogs and includes a lake for the animals to swim, noted Cathy Abruzzo, the organization's president.
One small dog that competed was Tibby, a 1-year-old schnooodle (a schnauzer-poodle mix) that belongs to Kim and Anthony Biegacki of Warren.
Giving winning performances at such shows is nothing new for Tibby, who won in the Best Small Dog category for performing a twirl.
"She usually twirls a lot for her treats," Kim Biegacki said, adding that Tibby's other tricks at home include doing puppy push-ups and giving a person her paw on command.
Tibby's winning track record includes a first-place finish in a kissing contest and other categories; she also has brought in trophies, Biegacki recalled.
Coming in first place for displaying the most unusual trick was Lady, an 11-month-old charcoal Labrador retriever whose companion (many people prefer this term to "owner") is Emily McVicker of Bristolville.
Lady, who McVicker describes as easygoing, made an impression at the show for using her front paws to give high-fives.
"She picked right up on it," McVicker said, referring to the dog's having learned the trick.
McVicker, who got Lady when she was 7 weeks old, said she's grateful for the dog park.
"It's nice to have something like this in the area," she added. "It's nice to come and visit."
Conducting a mock rescue operation were Paula Humphrey and Sonar, an 8-year-old Border collie that's part of the Bloomfield Fire Department's K-9 search-and-rescue team.
Typically, those found are lost hunters, children and elderly people, as well as people of all ages who have dementia and other mental challenges, noted Humphrey, who also was one of the event's three judges.
"A lot of times, it's hunters in the fall, kids during the summer and the elderly any time," Humphrey said, adding that the team serves Northeast Ohio, western Pennsylvania and elsewhere as needed.
The show also had several vendors, including Joan Kovach and Jim Wilson, who run Fuzzy PawzShih Tzu Rescue from their Mineral Ridge home.
Since its inception about 11 years ago, the organization has rescued roughly 250 such dogs, Wilson noted. Now, Fuzzy Pawz recovers an average or 40 to 50 each year from puppy mills, dog pounds, homes and other places, he explained.
Kovach and Wilson, who have about 18 Shih Tzus, conduct home visits before a potential adoption. The couple also rehabilitates and spays and neuters the dogs before letting them be adopted, Wilson and Kovach noted, adding that they need more foster homes for the animals.
In addition, they try to ensure the personalities of the dog and person are complementary. For example, a poor fit would be to pair an elderly person with a Shih Tzu puppy because of the amount of work in caring for the animal, Wilson said.
For more information on the dog park, go to www.mosquitolakedogpark.com .