Local OSU recruit critical, teen girl dead after West Side shooting
Staff report
YOUNGSTOWN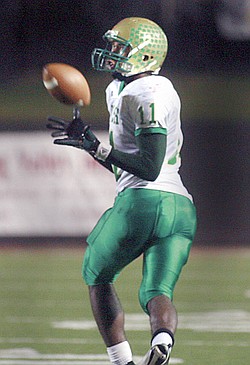 Photo
Jamel Turner catches a pass during a game against Cardinal Mooney in October 2007.
Former Ursuline High football standout Jamel Turner was injured in a shooting early Saturday morning in which a 17-year-old girl was killed, Youngstown police reported.
Police have a suspect in the killing, but it is not clear if he was charged. Police said Saturday evening he had not been arrested.
The shooting happened at 3:23 a.m. at 63 Manchester Ave. on the city's West Side.
Police said they found Tracy Banks lying on the living room floor dead, with multiple gunshot wounds.
Turner, who called police for help, was also shot multiple times, and was taken to St. Elizabeth Health Center, where he was in critical condition, police said.
The hospital would not release information on his condition Saturday evening.
Police also found a 4-year-old girl in an upstairs bedroom, unharmed, the report said. Banks had been babysitting the girl.
Turner, The Vindicator's defensive player of the year for football in 2008, was a standout at Ursuline High School, and verbally committed to Ohio State.
But later that school year he was dismissed from Ursuline's basketball team, and last August he was ruled academically ineligible. He soon enrolled at Fork Union (Va.) Military Academy.
Turner played football in 2009 at Fork Union and was a member of the track and field team, but was asked to leave the institution earlier this year.
In April, Turner was shot in the lower left ankle and right hip as unidentified assailants opened fire on a vehicle in which he was riding on Interstate 680 near the Williamson exit.