This Kidd has a big heart for the city
By Doug Livingston
TheNewsOutlet.org
YOUNGSTOWN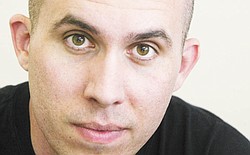 Photo
A strong supporter of Youngstown, Phil Kidd of the Mahoning Valley Organizing Collaborative is working to help revitalize the city.
He's a forceful presence, standing more than 6 feet tall with a walk of calculated determination, a shaved head and a firm handshake, a stare devoid of doubt.
Wearing a pressed white button-up, cuffs sliding past his wrists when his elbows bend. He's practical, a minimalist, with an idea bigger than himself.
Phil Kidd is Defend Youngstown, or maybe it's the other way around. He is the voice of a grass-roots, revitalization process determined to shake the rust off the city.
He's a member of the Mahoning Valley Organizing Collaborative, the acting vice president of the Mayor's Community Foundation, formerly the city's director of downtown events and special projects, a 2008 Leadership of the Mahoning Valley graduate and an active player in everything Youngstown.
But the all-things-Youngstown man was born in Pennsylvania, spending most of his later childhood in the city of Weirton, W.Va., a once-vibrant town pinned between Ohio and Pennsylvania.
In the fall of 1998, Alli Tomich loaded her Ford Escort with bed sheets, enough clothes to last a week and her only son, Phil. It was a one-way trip for Kidd, with Youngstown State University at the other end. After they settled his possessions into a cramped dorm room on the sixth floor of Kilcawley Center, Tomich turned to her son.
"There's just something about Youngstown. It feels like home," she told him.
"Yeah, mom," he agreed. "It does."
Kidd has Youngstown coursing through his veins. The people, the heritage.
"It has the down-to-earth people just like us," his grandmother Betty Dumbovich explains. "I know, he told me. Hard-working people, that's the kind of people he likes."
"That's why he was attracted to Youngstown," his grandfather Joseph adds, "because he grew up in that kind of town."
When Kidd was 10, he stood at his father's side at a bridge project in Washington, Pa. His father, Robert Kidd, helped organize the project while working for the Washington County Redevelopment Authority. Robert died when Phil was 15.
"He died of an enlarged heart," Kidd said. "They found him upstairs, face down. When he died, his heart was twice the size of a normal heart."
He was a large man, with a large heart.
"Between all that is kind of my DNA," Kidd considers. "Having my father serve in that capacity, having my mother, [a Pennsylvania housing projects auditor], serve in a similar capacity. ... I see where my interests and kind of my evolution to where I got now. It was from all these experiences growing up.
"I'm an advocate," says Kidd, 30. "I do what I can as an organizer."
Kidd's efforts caught the eye of a promising young politician campaigning for mayor.
"I met this guy that people just gravitated toward," Mayor Jay Williams reflects. Williams found himself wondering "who is this guy and why is he so passionate about Youngstown? ... He's everywhere."
On a warm summer night, after an arduous workday, Williams decided to take it easy. He attended a film at the Covelli Centre. The movie ended about 9:30 p.m. Williams recalls leaving, thinking only of going home to get some much-needed sleep. Then he spots Kidd.
"Phil hops on his bike, with a Defend Youngstown T-shirt on, riding off into the darkness, probably to another event," Williams recalls.
"When [the Youngstown 2010 project] was launched and Jay Williams became mayor," Kidd says, "I wanted something [to combat] this attitude prevalent throughout the Valley that was like, 'We're [screw-ups], and we're never gonna fix this place.'"
Kidd put his foot down, and Defend Youngstown was born.
"To me, it was like ... enough! We're going to recognize all of our challenges, all of our history, all of our baggage, our scars."
Kidd took to the streets, holding up hope on a piece of weathered, tan cardboard with bold, black lettering reading "Defend Youngstown."
Every Friday and Saturday night, Kidd stood downtown in the middle of Youngstown's dormant heart, like a crusader with a passion border-lining lunacy. His plan was simple. "I wanted to get people talking."
And not the usual talk, either.
In the aftermath of a rash of arsons sweeping through the Wick Park neighborhood last fall, a community meeting took place Nov. 9 at the Wick Park Pavilion.
Tyler Clark, a friend of Kidd's and founder of Youngstown Renaissance, recalls the event.
Ninety minutes into the meeting, after feeble talk of block watches and wandering investigation leads, Kidd stood up and introduced himself.
"Listen, this is what we want," Clark remembers him saying, never raising his voice, polite, courteous, articulate, steadily piercing the ineffectual atmosphere. Kidd looked straight into the eyes of council members, community leaders and government officials. "We want you to prioritize the preservation of Wick Park," he said.
"Everyone turned around to him," Clark says. "They thanked him."
U.S. Rep. Tim Ryan remembers first hearing of a guy from out of town, bringing "an appreciation for all the good things he saw" in the Mahoning Valley. Ryan, of Niles, D-17th, picked up a local newspaper and read about Kidd's campaign, selling Defend Youngstown T-shirts, selling hope.
"I ended up buying a bunch of shirts off him," Ryan says. "I had a period where I was wearing Defend Youngstown T-shirts every day."
A passionate man himself, Ryan threw his support behind Kidd's movement. "It's symbolic of what's been happening around town," Ryan says.
"It's all heart," he explains. Phil is very "targeted and smart. You gotta have that person."
Kidd wakes up at 7:30. On any given day, 30 to 40 e-mails are waiting for him in his in-box when he arrives at the MVOC. He works right through lunch, planning projects or events for that evening.
He almost always attends a neighborhood meeting before arriving back at the office around 9 p.m. where he spends the next three hours blanketing his Defend Youngstown Facebook page with the accomplishments of the Valley, holding up the city like a first-born child. At midnight, he calls it a day.
His Saturday mornings are ritually interjected by a cup of coffee at the Golden Dawn just off Wick Avenue — right in the old neighborhood. At the same table every week, he surrounds himself with a copy of The Vindicator, The Business Journal, his laptop, the Week Magazine and a pile of policies and reports on upcoming community-development projects.
He has hopes of amending his routine someday. "I see myself at a high school football game when I'm 50," he ponders.
He doesn't have any children yet, but maybe he'll be watching his son play on that field, under the lights, with his family and friends — right in the old neighborhood.
"I have dreams to live in Youngstown until they incinerate me and spread my ashes over the Mahoning River," he exclaims.
The NewsOutlet is a joint media venture by student and professional journalists and is a collaboration of Youngstown State University, WYSU Radio and The Vindicator.