New burst of  business in Boardman
By GRACE WYLER
gwyler@vindy.com
BOARDMAN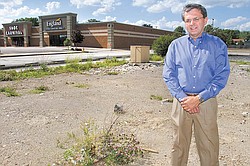 Photo
Bill Kutlick, a broker for Kutlick Realty, stands in a vacant lot on which an Arby's restaurant formerly stood on U.S. Route 224 in Boardman. The property will be home to a new 4,500-squarefoot Verizon Wireless store. Boardman's retail corridor is undergoing several redevelopment projects as the impact of the economic recession begins to soften.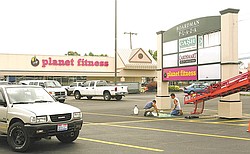 Photo
Planet Fitness is expected to open next week at the former Burlington Coat Factory space in the Boardman Plaza.
As consumer confidence continues to rise, local dealmakers say the Mahoning Valley's busiest retail corridor is starting to see a small burst of new activity.
Retailers are beginning to sign leases, start new construction and fill vacant storefronts along U.S. Route 224 in the township, according to commercial real estate agents. "There is a transformation going on in Boardman," said Bill Kutlick, a broker for Kutlick Realty, a local commercial real estate firm. "The market here is not as bad as people think it is — there are a lot of positive things going on."
Two businesses are moving to new locations along Route 224, and Kutlick is in the process of negotiating deals for two additional properties, he said.
Raphael's School of Beauty plans to move into the former Carter Lumber site at 615 Boardman-Canfield Road sometime this summer. The school, which bought the property for $750,000, has put a "substantial investment" into renovating the building's facade, Kutlick said. The building has space for three more tenants, he added.
"The traffic and location warrant that kind of investment," Kutlick
said. "The market here — the strong demographics — warrants putting money into property."

Verizon Wireless is building a new 4,500-square-foot store at 550 Boardman-Poland Road, next to the Bed Bath & Beyond store. The cellular telephone company has outgrown its current location across the street, Kutlick said.
Kutlick also is working on deals for two vacant properties — the empty Circuit City building, located at the corner of Market Street and Route 224, and the former Value City store. The real estate firm also has had some interest in the vacant Movie Gallery at 1393 Boardman-Canfield Road, Kutlick said.
These properties are vacant because the larger retail chain or industry suffered during the recession, Kutlick said. The store locations remain well-positioned along a large regional shopping corridor, he said.
"It is all based on location — there is extremely high exposure, high traffic count," Kutlick said. "Properties go through a cycle."
Retailers are also investing in South Avenue properties, Kutlick said. Kutlick Realty has signed a lease with a grocery store for a 20,000-square-foot property at 6600 South Ave., across from Walmart, he said.
The retail outlook is increasingly positive, although it has taken time for the market to pick up, said Bradley Nair, property manager for Boardman Plaza.
"Leasing is still slow, and our developers are still reluctant," Nair said. "Though I think we've turned a corner."
Planet Fitness, one of the nation's fastest-growing private companies, will open a 25,000-square-foot fitness center in Boardman Plaza sometime next week, Nair said.
Planet Fitness chose the area because the demographics of the area are very strong, said Angela Noury, manager of the new fitness center. More than 1,500 people already have registered as members, she said.
Boardman Plaza's real estate company, WP Realty of Philadelphia, also is in negotiations with a firm that would open a 10,000-square-foot, hibachi-style restaurant in the shopping center, Nair said.
New development will likely continue as consumer confidence continues to improve, said Chris Boring, president of Boulevard Strategies, a retail consulting firm in Columbus.
The Conference Board Consumer Confidence Index, a monthly report that is widely accepted by investors and the Federal Reserve, increased in May for the third consecutive month. The index now stands at 63.3 out of 100, up from 57.7 in April. The Expectations Index improved to 85.3 from 77.4 last month.
"In general, we are coming out of the recession," Boring said. "Once consumer confidence recovers, you will start to see retailers start to open more stores."