Opening of North Side Pool makes big splash with youths
Opening of North Side Pool makes big splash with youths
By ELISE McKEOWN SKOLNICK
YOUNGSTOWN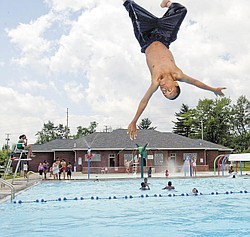 Photo
Lamar Robinson, 13, of Youngstown does a flip from the diving board at North Side Pool shortly after the pool opened Wednesday. The opening was made possible thanks to funding through the Mahoning-Youngstown Community Action Partnership.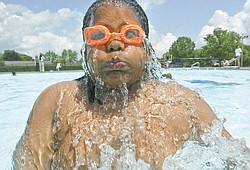 Photo
Jason Martin, 12, of Youngstown emerges from the cool water of North Side Pool.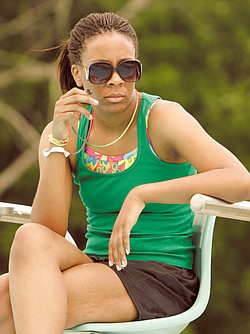 Photo
Lifeguard Lea Shivers keeps a close watch on swimmers at North Side Pool on Wednesday afternoon. The pool opened for the summer and will remain open until Aug. 11.
Gray clouds gave way to blue skies just in time for the opening of North Side Pool.
About 25 youths waving towels and toting backpacks waited for the doors to the Belmont Avenue facility to open Wednesday.
"I'm here to have fun and swim because it's hot," said Malik Everson of Youngstown as she patiently waited for her chance to swim.
Malik, 12, enjoys swimming at North Side every year, she said, and was mad when she heard it might not open this year.
"I probably would have asked my mom to buy one of those pools that go in your yard," she said.
But she's glad North Side opened again.
"It's fun, and it's a good place to go when you're bored," she said.
Facing a budget shortfall, the city eliminated funding for its pools and summer youth-recreation programs this year.
However, the Mahoning-Youngstown Community Action Partnership offered to use $450,950 of its American Recovery and Reinvestment Act of 2009 money to open North Side.
City officials had previously given incorrect amounts of $250,000 and $300,000.
The state agreed to a request by MYCAP to use the $450,950 for the pool and recreation programs.
Capone Haywood, 10, is glad they did.
"It's really fun," the Youngstown boy said. "You can come here when it's really hot and you're bored, because you can get wet over here, jump off the diving board and stuff."
Capone said his favorite part of the pool is the diving board.
Within half an hour of the pool's opening, about 40 kids jumped off the diving board and splashed through the streams of water shooting from splash pads.
Many yelled to friends that the water was cold. But that didn't stop them from jumping in again.
Keishea Buggs, 16, had never been to North Side Pool. She attended opening day with cousins and friends.
"It's fun," said Keishea, of Youngstown. "This pool has a lot of things you can play with. And all my friends are here. I'm having fun."
If the pool hadn't opened, she would have found another place to swim, Keishea said, but it probably would have been inside.
"The sun and the water at the same time feels good to me," she said.
The pool is open from 1 to 8 p.m. daily through Aug. 11 and free to the public. As a condition of using the ARRA money, the city cannot charge admission to the pool.