Stimulus helps city open North Side Pool
Stimulus helps city open North Side Pool
By DAVID SKOLNICK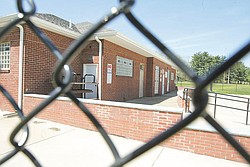 Photo
North Side Pool on Belmont Avenue in Youngstown.
NORTH SIDE POOL
Where: Belmont Avenue
Hours: 1 to 8 p.m. daily
Days: Today through Aug. 11
Admission: $1 for adults and 50 cents for children under 18
Sources: Park and recreation commission, Vindicator files
YOUNGSTOWN
The city's summer youth-recreation programs were to begin and its North Side Pool was to open today, thanks to the federal stimulus package.
The Ohio Department of Development's Office of Community Services gave final approval to a request from the Mahoning-Youngstown Community Action Partnership to use the money for the city programs and pool, said Kimber Perfect, an ODOD spokeswoman.
Youth-recreation programs at seven parks in the city were to begin today at 10 a.m., and the pool, on Belmont Avenue, was to open at 1 p.m., said Jason Whitehead, director of the city's park and recreation commission and the mayor's chief of staff.
Without the stimulus program, the programs and pool opening wouldn't have happened, Whitehead said.
The park and recreation commission and staff are "very grateful to the state of Ohio and MYCAP for including us in the funding change," he said.
Representatives of the ODOD office met Friday in Columbus with MYCAP officials to discuss a request to change how the Youngstown agency could spend portions of the $1,192,643 it received last year from the federal stimulus.
The Office of Community Services approved $877,113 in changes Monday, Perfect said.
Of that amount, about $250,000 was for the city's summer youth programs and to open the pool, Whitehead said.
The park program gives Youngstown kids a place to play games and sports, eat breakfast and lunch, learn crafts, swim and go on field trips, Whitehead said.
The average daily attendance for the city recreation programs is 350 with an average of about 200 people at the North Side Pool a day, Whitehead said.
The last day for the programs and the pool is Aug. 11.
Parents of children in the summer program need to provide their child's date of birth, Social Security number and medical insurance number, if they have the latter.
The seven summer recreation-park locations are:
Fosterville, 600 W. Indianola Ave.
Lynn, 1940 Lynn Ave.
Wick, 260 Park Ave.
John White, 2300 Kimmel Ave.
Homestead, 829 Dewey Ave.
MVSD, 180 N. Dunlap Ave.
Crandall, 400 Redondo Road.
More like this from vindy.com