Parking fees add $2.3M to YSU's revenues
By Harold Gwin
YOUNGSTOWN
"A lot of people think our primary purpose here is to write tickets, but that's not so," said Danny O'Connell, director of support services at Youngstown State University.
Those services include running the university's parking program which, at about $2.3 million a year, is a business unto itself.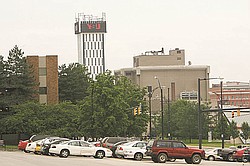 Photo
About $2.3 million runs through Youngstown State University's parking-services program annually, as parking has become big business on campus. More than 60 percent of the program revenues come from the sale of student-parking permits.
The parking program at YSU is big business, producing about $2.3 million a year in revenues.
Where it comes from:
$1,500,000: Student parking permits.
$515,000: Faculty and staff permits.
$120,000: Fines.
$80,000: Special-events fees.
$60,000: Daily parking fees.
$25,000: Contracted- services permits.
$18,000: Weekly permits.
$13,000: Parking meters.
Where it goes:
$967,000: Operations (maintenance, repairs, snow removal, etc.).
$590,000: Permanent staff wages.
$379,000: Temporary staff wages.
$245,000: Employee benefits.
$145,000: Administrative fee paid to the university.
Source: YSU 2010-11 budget.
It's no small task just to maintain the 6,093 parking spaces found in two parking decks and 27 surface lots spread across campus.
Students pay $78 per semester for parking permits (faculty and staff pay $85), and they can get a lot of service for that fee in emergency situations, O'Connell said.
Parking-program employees help with vehicle lockouts and even will run a driver to a gas station with a can to get fuel. An air tank is available to pump up low tires, and, though they can't change your flat tire for you, parking employees do assist with that task, he said.
The fee also includes use of the campus shuttle that makes the rounds of each parking lot from 7 a.m. to 7 p.m.
Parking services has three vehicles on the road all day, O'Connell said, and the employees can serve as eyes for campus police via radio.
The lots also are staffed with employees to provide control and some measure of additional security.
"Our biggest thing is educating people about where the [empty] spaces are," he said.
YSU students frequently complain about being unable to find those empty spaces.
The university issued 13,000 student-parking permits this spring, and those students had to share about 5,500 parking spaces, O'Connell said.
They aren't all on campus at the same time, but that number does cause a search for spaces during the peak time of 10:30 a.m. to 1 p.m. However, the university hasn't ever run out of spaces, he said.
Some lots aren't as convenient as others, but there is always space available somewhere, he said, adding that parking services tells people to have a back-up spot in mind when they come to campus.
Other than spots for the president and vice presidents of the university, there are no reserved parking spaces on campus, and that helps those looking for a spot, O'Connell said.
The parking situation at YSU "is not the greatest," said Rachel Miller of East Palestine, a junior pre- pharmacy major.
She likes to park in the Lincoln Avenue parking deck but said you have to get there early to get a spot. She usually winds up in the Wick Avenue deck across campus, she said, adding, "It's no big problem."
More parking spaces might be helpful, suggested Chelsea Miller of Brookfield, a junior journalism major.
She also likes to park in the Lincoln Avenue deck, where she said it can be difficult sometimes to find a spot.
"It's not a problem for me," said Steve Hodge, a senior telecommunications major from Youngstown, who parks in the Wick Avenue deck.
He said he generally has no difficulty finding a convenient space there.
Tom Scala, a junior psychology major from Warren, had a suggestion for where the university might spend the 3.5 percent tuition increase in place for this fall.
"Hopefully, parking," he said. "Something needs to be done. It's too hectic." It could get a bit more hectic next spring. The university is talking about tearing down the Lincoln Avenue deck and replacing it with parking in surface lots around campus.
O'Connell said the $78 student permit is "a very favorable parking rate."
The University of Akron and Cleveland State University, which are in land-locked situations similar to YSU's situation, charge $115 and $160 per semester, respectively, he said.