DeWine says he wants to protect families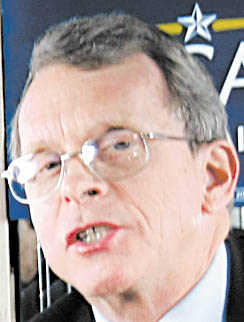 Photo
ASSOCIATED PRESS
By DAVID SKOLNICK
YOUNGSTOWN
Wherever he campaigns, former U.S. Sen. Mike DeWine said he's gets asked the same question.
"Why are you running for attorney general?"
DeWine said he understands why he is asked that.
After all, DeWine served 12 years in the U.S. Senate — losing in 2006 to Democrat Sherrod Brown — and is a former lieutenant governor as well as a four-term U.S. House member and ex-state senator.
DeWine told The Vindicator on Monday that he wants to return to his "real passion" of protecting children and families. Being attorney general is an ideal fit, he said. His first elected position was Greene County prosecutor in 1976.
DeWine, a Republican, raised $1.7 million for his campaign from Jan. 1, 2009, to this June 4, which includes loaning $500,000 of his own money. In comparison, incumbent Richard Cordray, a Democrat, has raised $2.9 million during the same time period.
"He's got more money than we do," DeWine said of Cordray. "We'll have enough to get our message across."
DeWine said he expects a "fairly close race."
DeWine was in the Mahoning Valley speaking at an invitation-only luncheon Monday at the Youngstown Club, sponsored by the Youngstown/Warren Regional Chamber's government affairs council.
DeWine said he often is asked about his future political aspirations, particularly a rematch in 2012 with Brown for the U.S. Senate.
"No," DeWine said to being a 2012 Senate candidate. "I've done that. I did it for 12 years. There is no other race I'm looking at. I want to be attorney general. One term at a time. I'm excited to have the opportunity to serve [as attorney general]. It's a logical fit for me. I don't know anyone more qualified to be attorney general."
When asked about Cordray, DeWine said the Democrat has been unable to improve the productivity of the state's crime lab, which has had problems with a backlog of processing evidence, such as DNA, for criminal cases.
"Richard Cordray did not create the problem, but he's not really solving the problem either," DeWine said. "I can't tell you exactly what the problem is, but I know what the results are, and the results are the crime lab needs to be run more efficiently."
Cordray has made turning around the crime lab his "top priority," and he's "made great strides in substantially reducing the number of pending cases," said Seth Bringham, the Ohio Democratic Party spokesman.
Despite the Mahoning Valley's strong Democratic support, DeWine said he's optimistic that he'll be successful here in November.
"We've done well here," he said.
In 2006, DeWine received 44 percent of the vote statewide against Brown. In Mahoning and Trumbull counties, DeWine received only 27 percent of the vote.
"If Mike DeWine considers losing by 46 percent in Mahoning County to be 'done well,' then we hope he does well again," Bringman said.
In the 2000 Senate election against Democrat Ted Celeste, DeWine received 60 percent of the vote statewide. He received 42 percent of the vote in Mahoning and Trumbull counties.
More like this from vindy.com