Friends say Stubler lived life fully but loved to speed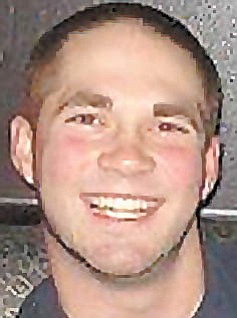 Photo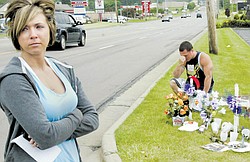 Photo
Ashley Bleggi, girlfriend of Nicholas Stubler, a motorcyclist killed in a weekend crash on South Avenue, Boardman, pauses at a roadside memorial at the crash site. Jamie Milsom of Leetonia, a friend of Stubler's, pays his respects in the background.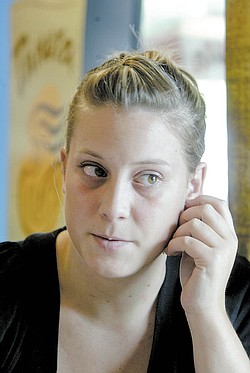 Photo
Katie Smolskis, friend of motorcyclist killed in weekend crash, talks about her loss.
By ASHLEY LUTHERN
BOARDMAN
Three days after a fatal motorcycle accident, teary-eyed friends say the death of Nicholas Stubler was tragic but not entirely unexpected.
"He loved to go fast," said Katie Smolskis of Canfield. "... I think everyone knew this is how it would happen."
Stubler died less than a month after his 21st birthday Saturday when his Suzuki motorcycle hit a Cadillac driven by Donald Lisbon, 69, of Struthers, who had one passenger in the vehicle.
Both Lisbon and his passenger were taken to St. Elizabeth Health Center and have since been released.
Witnesses estimate that Stubler was traveling at 60 to 70 mph as he passed Handel's Ice Cream and Regal Cinema South — more than 20 mph over the speed limit, according to the Ohio State Highway Patrol.
"He was dumb [to speed] ... but the last thing he'd want to do is hurt anyone around him or his family or friends," Smolskis said.
"Nicholas had friends and family who truly loved him," said Monica Emory, his sister. "Everyone who knew him admired his loyalty and his kindness ... He'll always be in our hearts."
The highway patrol has not completed its full report with the accident reconstruction to estimate Stubler's speed, said dispatcher Geraldo Muniz.
Stubler, a Cardinal Mooney graduate and Youngstown State University student, had a history of traffic violations from August 2007 to June 2009.
The violations include two instances of speeding: going 42 mph in a posted 25 mph zone, and going 60 mph when the posted limit was 45 mph.
Friends milled around a memorial of bottle caps, flowers, Coors Light bottles and crosses Monday, paying their respects.
"He lived life to the fullest. ...He died 100 percent happy. He loved his parents and wanted to make them proud," said Ashley Bleggi, Stubler's girlfriend. "This is like a bad dream. I keep waiting for him to call, and he won't."
The crash took place in front of Regal Cinema South, 7420 South Ave., and across the street from Handel's Ice Cream, leaving many of the businesses' patrons and onlookers traumatized.
"I think everyone was just stunned over how tragic it was," said Kathy Miller, a past Boardman Township trustee, who was at a car show in the former Sam's Club parking lot when the accident occurred.
"No one was saying who did what, they were just overwhelmed with how serious and how sad it was to see that strewn all over the road," she said.
Boardman's fire department washed the street after the wreckage was removed, but a painted outline remains near the memorial.
"One of our girls who knew [Stubler] requested a few days off to grieve," said Leslie Razo, Handel's manager. "It's a sad story, but we're all still coming to work and doing our job."
Razo was not at the ice cream shop during the time of the crash.
Boardman Police Chief Jack Nichols said there was a fatal motorcycle accident in the same area of South Avenue about a year ago.
"We'll have to step up enforcement in that area," the chief said.
Motorcyclist fatalities in Ohio increased from 190 in 2007 to 213 in 2008, according to the Ohio Department of Transportation.
Under Ohio law, after a motorcyclist gets a license, there is a one-year probationary period during which the motorcyclist must wear a helmet.
After that year, a helmet isn't required but protective eye wear is. Passengers on motorcycles must wear helmets.
SEE ALSO: Cycle accidents in Valley claim 3 lives in 2 days.