Canfield class urged to build upon successes their successes
2010 Canfield Commencement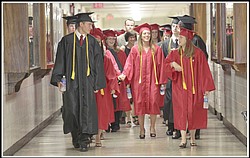 Gallery
CANFIELD
Class of 2010
Number of graduates: 270
Class colors: crimson and ivory
Class flower: forget-me-not
Class song: "How Far We've Come" by Matchbox 20
Class motto: "Set me adrift on a sea of hope and I'll set my sails to a new horizon." Author unknown.
Source: Canfield High School
By AMANDA C. DAVIS
CANFIELD
When Steve Dalvin began his search for the right college, he didn't spend hours poring over materials in the high school guidance office.
He did what most people in this day and age do when searching for anything – he googled it. The Canfield graduate said he went to the popular search engine, typed in "best biomedical engineering schools" and settled quickly on Johns Hopkins University in Baltimore.
Dalvin, one of four valedictorians to graduate from Canfield High School on Sunday, said he will have many options when he graduates, such as a career in robotic prosthetics, or he may decide to enroll in medical school.
The commencement ceremony was bittersweet for Meghan Kubic, whose mother, Deborah, passed away a few weeks ago after battling cancer. Kubic, also a valedictorian, received a standing ovation from the crowd and her classmates when she thanked her mother for setting high standards for her and "for making me the person I am."
She challenged the crowd to embrace their family and friends, saying, "Do not take the small things for granted."
The crowd also recognized graduate Dustin Brode, who will attend Harvard University this fall, for his accomplishments in shot put.
Superintendent Dante Zambrini said officials couldn't find any evidence, after going through school records, of another Canfield graduate to achieve Brode's level of success. Brode is a two-time defending state champion in shot put and won a national championship in the sport this year after competing at the Nike indoor nationals in Boston.
Brode said he's favored to take the top spot again this weekend at the New Balance nationals in Greensboro, N.C. He will throw for Harvard's team and plans to pursue a degree in finance or take pre-med courses.
Judge Scott D. Hunter, who presides over Mahoning County Area Court here, was guest speaker and told students not to seek success in "lavish homes and expensive cars." Instead, he quoted Ralph Waldo Emerson who challenged readers to "laugh often and live much" and to "leave the world a bit better."
Hunter, a 1981 Canfield graduate, addressed the class, which includes his daughter, Emily, telling them to celebrate this milestone in their lives. He also cautioned them that hardships are inevitable along the way.
"What must be remembered is that challenging times bring great opportunities," he added.
Senior Gabby Schiraldi will attend The Ohio State University to study communications and said commencement is bittersweet because it's "sad to leave behind so many memories."
She attended St. Christine School before coming to Canfield as a freshman and had originally wanted her parents to send her to Mooney. She said she's grateful every day for the way things turned out. "I'm so glad," she said. "I couldn't have imagined it any other way."
Ryan Mirto, senior class president, plans to study business management at Northwood University in Midland, Mich. He said it hasn't really sunk in that he and his friends are graduating.
"We had a great senior year and this is finally a day for us to celebrate," he said.
"I just think we're all thrilled to start moving onto the next phase of our lives."