East High speaker: 'Follow your passion'
2010 East High Commencement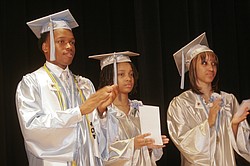 Gallery
EAST HIGH SCHOOL
Class colors: Purple and gold.
Class flower: Blue sepia.
Class song: "I'll Be There."
Class motto: "To accomplish great things, we must not only act, but also dream, not only plan, but believe!"
School mascot: Panther.
Diplomas presented: 121.
Scholarship awards: $1.34 million.
By HAROLD GWIN
YOUNGSTOWN
"Follow your passion," Sheree Allen advised East High Schools' graduating seniors.
Find something that you are passionate about, feed it, grow it, learn as much as you can about it, learn from others in that field, and surround yourself with people who will help you do your best, she said.
It's a recipe for success, said Allen, the keynote speaker at East's commencement Thursday at Stambaugh Auditorium.
She cited Steve Jobs, the CEO of Apple, as an example of someone who did just that. He started that company and designed the first Macintosh computer but lost his job in a falling-out within the company, she said.
But he continued to follow his passion for computers and later returned to Apple where he now serves as CEO, she said.
"Never give up your dream or your passion," Allen said. "Your potential is endless."
Cultivate your passion and, "Success will follow," she told the students.
Allen, now a physician's assistant at Detroit Medical Center, was co-valedictorian of East High School in 1998.
She also offered some practical advice to those young people who will be seeking jobs in the corporate world.
"You are identified by your uniform," she said, advising them to present themselves for employment as the intelligent people they are.
Young women should avoid multicolored hairdos, and men shouldn't wear low-sagging pants, she said, apologizing for preaching to the class but explaining that people are often rated by the first impression they make.
"It's time for us to prove what we are made of," said Brandon Mosley, co-valedictorian of the 2010 class.
Every man and woman walking across the stage today can make a difference, he said, adding that he wants to be seen as the one who made it, so others can see they can make it, too.
"Only we can determine the impact we have on the world," he told his classmates.
Breona Layton, class salutatorian, advised her classmates to use "the three T's — Time, Talent and Treasures" — to give back to the community.
Today isn't the end, it's the beginning for us, she said.
"Congratulations. You're just getting started," Superintendent Wendy Webb told the class.
"There is greatness in this room. The greatness is about service," Webb said. "I want to tell you I am proud of you. You captured my heart. I love you, and God bless you."
"Youngstown needs you," said Andrea Mahone, a member of the city school board.
She asked the graduates to get involved in their community, run for school board or even mayor, start their own business or find some other way to contribute.
"I give you the keys to the city," she said.