Boardman seniors make one final splash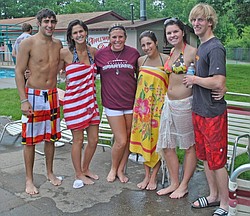 Photo
Neighbors | Shaiyla Hakeem .Boardman High School seniors Joe Fernback (left), Guiliana Silvestro, Morgan Curl, Kate Rafeedie, Robin Eisenbraun and Lim Tong dry off in the shade during their senior outing at the Applewood Club.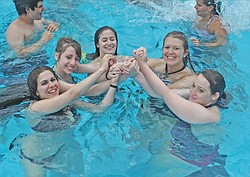 Photo
Neighbors | Shaiyla Hakeem .Seniors Nicole Heasley (left), Jerusha O'Dell, Angela Kaczowka, Gina Graziosi and Joelle Umstead hold hands forming a human pretzel. The game requires them to untangle themselves without releasing their grip on each other's hands.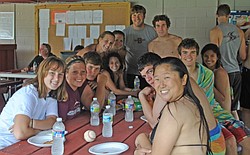 Photo
Neighbors | Shaiyla Hakeem .Seniors at Boardman High School took time off from school to party at the Applewood Club June 3. Their swim party featured volleyball, tetherball, water basketball and other outdoor activities.
Boardman High seniors made one final splash June 3. Not in the classroom, but in the pool.
Seniors attended a swim party at the Applewood Swim and Tennis Club, on Teakwood Drive, The event was organized by the senior class as an end of the year fun day. Their last day of school was June 2, so the class wanted to get together one last time before graduation.
The students spent the afternoon in the sun and playing games in the pool. They also participated in volleyball and tetherball. For lunch, they grilled hot dogs and hamburgers that were served with chips and pop.
The students say they are happy to be graduating, but sad to be leaving all of their friends.
More like this from vindy.com