By BOB JACKSON
news@vindy.com
BELOIT
West Branch Graduation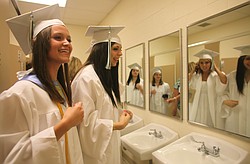 Gallery
West Branch High School Graduation 2010.
WEST BRANCH
Class of 2010
Number of graduates: 189
Class colors: silver and black
Class flower: lily
Class song: "Weekend Warriors," A Change of Pace
Class motto: "All our dreams can come true if we have the courage to pursue them."— Walt Disney
Kaylee Arkwright and Kirsten Cole have been best friends since the sixth grade. On Sunday, they showed up at school together for the last time.
Kaylee, 18, and Kirsten, 17, were among the 189 students who graduated from West Branch High School during ceremonies in the high school auditorium. And while they clearly enjoyed the day they had looked forward to for years, both were struggling with the fact that their paths were about to diverge for the first time since their childhood.
Kirsten is moving with her family June 15 to Tennessee, where she will attend nursing school. Kaylee is headed to Brown Mackie College in North Canton to study surgical technology.
"It's going to be hard, but we're going to stay in touch," Kaylee said. "I'm going down there to visit in July, and she's coming back up here in August."
Kaylee said the thing she was most excited about Sunday was her family's getting to see her graduate.
"I'm the oldest of five children," she said. "I'm the first to graduate."
Her best friend, though, had a different spin on why Sunday was a big day.
"I just can't wait to get my diploma and not have to come back here anymore," Kirsten said, laughing.
Both young ladies said they considered the state of the local and national economy when choosing their career paths. Kaylee said she originally wanted to become a teacher but opted against that because of the difficulty in obtaining a job in that field.
Superintendent Dr. Scott Weingart said the Class of 2010 has the distinction of being the 50th class to graduate from West Branch in the school's history and noted that the class has distinguished itself academically, athletically, in music and fine arts and in service to the school and community.
"We will follow your lives and careers with great interest," Weingart said.
Kamil Courtney's career path is one that could likely land him in a combat zone. The 17-year-old has enlisted in the Marine Corps and will leave for basic training in September. Already sporting a close-cropped military haircut, Kamil said he's not nervous about the prospects of joining the military during a time when the United States is entrenched in war in the Middle East.
"I'm a little sentimental," said 17-year-old Malinda Simpson, who will major in biology on a scholarship at Otterbein University. Like many of the graduates, Malinda was glad to see high school finally end, though it was bittersweet because it also means the end of many close relationships as the classmates scatter.
But she said the power of the Internet will help those who want to stay in touch with one another be able to do so.
And when asked who'd shed more tears Sunday in preparation for graduation — her or her mother — Malinda didn't hesitate.
"Neither one of us," she said with a wide smile. "We're both really excited. Then again, we just went through this last year with my brother."
Michele Sosnick, 17, said she is "ready to take that next step" into life after high school. She is headed to Mount Union College in Alliance, where she will play basketball and start her training toward becoming a chiropractor.
During her remarks to her classmates, Emily Clark, one of the 13 class valedictorians and a class officer, told a story about something that happened to her at recess in second grade. While participating in a contest with other kids to see who could swing the highest and then jump the farthest off the swing, she jumped from the swing only to have her T-shirt get caught in the chains and torn off.
"Even though I lost my shirt, the important thing was that I had the courage to jump," Clark said.
Dr. Weingart noted that the graduates began their school careers by starting kindergarten in 1997. In honor of their graduation, the graduates' original kindergarten teachers attended the ceremony and were introduced: Becky Wuthrick, Becky Grimaldi, Rebecca Bricker and Kathie Menegay.