Ceremony continues despite downpour
Girard Graduation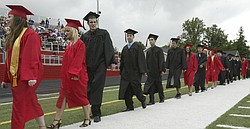 Gallery
Girard High School commencement 2010.
BY JORDAN COHEN
GIRARD
High school commencement is a day of life-long memories for graduates. Add this one for the Girard Class of 2010: getting soaked in their caps and gowns during a brief afternoon downpour.
"This is Girard and if it can go wrong, it will," said Janette Cross, 18, one of two class valedictorians, "but this is much cooler than graduating in the gym."
The rain drenched students, administrators and the high school band when it poured onto Girard High School stadium just as Superintendent Joseph Jeswald began his opening remarks.
The graduates yelled and cheered as the rain cascaded. Stands in the stadium resembled a rain-delayed baseball game more than a commencement as families hoisted umbrellas until the rain stopped five minutes later.
The superintendent continued speaking during the downpour.
Jeswald said earlier that students had voted to hold the ceremonies outdoors despite the threatening weather and the administration agreed. For the last five years, commencement has been in the high school gymnasium and the seniors overwhelmingly favored the stadium. The superintendent said there was another historical reason to conduct graduation in the stadium.
"This is the last class to graduate from our 86-year old building," Jeswald said. Next fall, Girard will open its new high school.
"This is a special day and having it out here is fun," said Aaron Jennings, 18, who has enrolled at Ohio State University to major in pharmacy.
"It's definitely something different," echoed fellow graduate Jacob Reddinger, 18, who will be attending Westminster College in the fall.
To the relief of the students and their parents, the sun emerged just as diplomas were handed to the graduates.
High School principal William Ryser said that traditionally "80 to 85 percent of Girard graduates enroll in college" and the same is true for the Class of 2010. Five members of the class plan to enlist in the military.
Perhaps the most poignant moment occurred when Sophia Martini, senior class president, asked for a moment of silence "for those parents who would have given everything to be with us today." The moment clearly had deep personal significance for the class president.
School administrators said her father died suddenly last year.