Vindicator spelling champ ready for today's rounds in national bee
By HAROLD GWIN
YOUNGSTOWN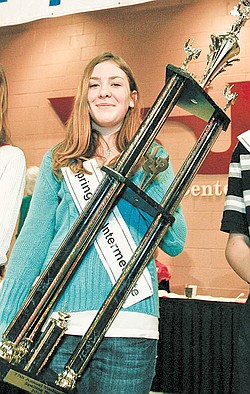 Photo
Julia Miglets of Springfi eld Elementary School holds the champion trophy that she received after winning the 77th Vindicator Spelling Bee.
On a scale of 1 to 10, Julia Miglets pegged her performance on her initial challenge in the Scripps National Spelling Bee at a "7 or 8."
Julia, daughter of David and Laura Miglets of Poland, is the grand champion of The Vindicator's Regional Spelling Bee, and, as such, advanced to be one of 273 contestants in the national event taking place in Washington, D.C., this week.
All of the spellers had their written tests Wednesday, with each asked to spell 50 words on a computer screen.
Julia took her test at 12:30 p.m. and said she feels confident about the results as she moves into the second and third rounds of on-stage preliminaries today at the Grand Hyatt Washington.
The semifinalists will be announced at the end of round 3, with only 50 participants advancing to the semifinal round Friday.
The semifinals will be live on ESPN from 10 a.m. to 1 p.m. Friday, and the finals will be broadcast on ABC from 8 to 10 p.m. Friday.
The Vindicator caught up with Julia and her family by telephone Wednesday as they were doing some sightseeing in Washington.
"Everyone's doing great," said her father, David, who answered the phone as the family was walking from the Museum of Natural History to the Museum of American History.
Julia feels pretty good about her initial performance, her father said.
Julia, 13, and an eighth-grader at Springfield Intermediate School, said she's having a good time. The big barbecue hosted by Scripps to kick off the event "was better than I thought it would be," she said, noting that the food was really good.
She's not involved in any impromptu study groups that the bee participants sometimes form, but she said she's still getting quizzed by her mother as the opportunity presents itself.
Julia said she feels relaxed and confident as the competition continues. She will be on stage twice today, once between 10 and 11:45 a.m. and again between 3:30 and 5:15 p.m.