An ODNR grant will help pay for the development of Harrison Commons
By HAROLD GWIN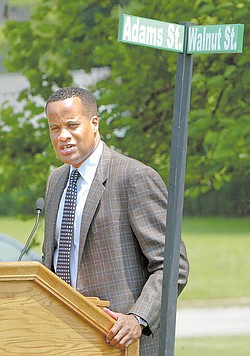 Photo
Mayor Jay Williams spoke on the importance of the proposed Harrison Commons park to the city, Youngstown State University and the Smoky Hollow neighborhood.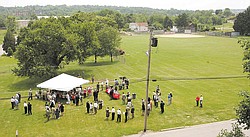 Photo
Ground was broken on a $400,000 Harrison Commons project at the site of Harrison Field in Smoky Hollow. The new park will feature a plaza and an arbor for plays and concerts.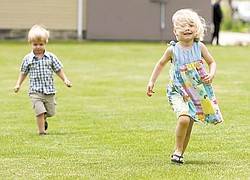 Photo
Ian and Avery Bandy Zalatoris, age 3 and 4 respectively, have some fun at Harrison Field on North Walnut Street in Youngstown before a groundbreaking ceremony at the field marking the start of the construction of Harrison Commons, which will be a focal point of the Smoky Hollow revitalization project.
YOUNGSTOWN
Harrison Field was the center stage of the Smoky Hollow neighborhood for decades, so it is perhaps only appropriate the development of Harrison Commons on that same site will be the first project in Smoky Hollow's rebirth.
Ground was broken on the project Wednesday on North Walnut Street just across from the Youngstown State University parking deck.
The park will feature a brick-paved plaza, an arbor for events such as plays and concerts, and a large historic map of Smoky Hollow. A $396,000 grant from the Ohio Department of Natural Resources will pay for the project, which will be completed in October.
The concept came from Wick Neighbors Inc. in conjunction with YSU and the city of Youngstown as part of a larger plan to revitalize Smoky Hollow into a new residential development.
This is really the start for the work to be done here over the next several years, said Paul Olivier, chairman of Wick Neighbors, addressing about 100 people who turned out for the event.
"It's a pleasure, after a number of years, to begin this great project," said David C. Sweet, YSU president. "We had dreamed the impossible dream that today we make possible."
As the neighborhood looks to the future, it can't forget what Smoky Hollow was — a close-knit, melting pot community that got its start 100 years ago, said Margaret Murphy, former executive director of Wick Neighbors.
The Rev. John Horner, former pastor of St. John's Episcopal Church and the founding chairman of Wick Neighbors, said the group formed with a "divine mission," and that Harrison Commons is "the right project" to launch Smoky Hollow's revitalization.
It was St. John's that rallied all the stakeholders to get the movement started, Murphy added.
In 2002, YSU and the religious and cultural institutions along Wick Avenue created Wick Neighbors to develop a plan to revitalize Smoky Hollow.
That plan calls for new streets, sidewalks, curbs and pedestrian pathways, new townhouses, condominiums and homes, commercial and retail space and 10 acres of public green space.
The project has secured $4 million in grants and city assistance to put in new infrastructure to support that development.
Engineering work on that phase is being done now, and construction could begin in about a year.
That will be followed by a phase one housing component that will see 25 housing units built around Harrison Commons, with traditional financing through borrowed funds.
Wick Neighbors is serving as the overall project developer.
More like this from vindy.com