Harding graduates 341 seniors
By JORDAN COHEN
WARREN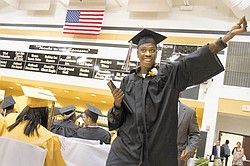 Photo
Darien Young motions for applause after he accepts his diploma during Warren G. Harding High School's 2010 commencement ceremony Wednesday.
Graduates: 341.
Class Colors: White and Gold.
Class Song: "Go Hard."
Valedictorian: Claire Brugler.
Salutatorian: Rachel La Marco.
School Mascot: Raider
Warren G. Harding High School awarded diplomas to 34l graduating seniors Wednesday, a class that Superintendent Kathryn Hellweg described as "one of Harding's largest in recent memory."
The size of the class was apparent in the opening processional in which the Harding Symphonic and Concert Bands played the traditional "Pomp and Circumstance" for 25 minutes before the entire class, the women in gold and men in black, could be seated in the gymnasium of the 2-year-old high school complex.
For some of the graduates, the newer facility does not take the place of its 81-year-old predecessor where they attended classes their freshmen and sophomore years. All that remains of the old building is its fa ßade prominently located near the new high school.
"I miss the old school," said Imari Jackson, 18, who plans to study accounting at Cleveland State University. "I just think it was better."
"I'll always remember the old building and the old traditions, but we got used to this one," said James Chandler, 18, who plans to join the Job Corps.
His classmate, James Johnson, 19, said he likes the new building, but his favorite memories will be of teachers "who gave us all we needed to know."
Johnson is headed to the police academy at Kent State University.
Ruth Zitnik, Harding principal, asked the graduates to look beyond their history in the two high schools. "It's not bricks and mortar that define us," she said. "It's you."
Hellweg, in her address, compared what life was like in America when most of the graduates were born around 1991 to what it is today.
"Your biggest challenge will be learning how to adapt to dramatic change," the superintendent said.
Her message was echoed by Claire Brugler, class valedictorian, who noted the turbulence of the last decade, including terrorist attacks, wars and financial crises.
"If we can survive these, we can survive anything," Brugler said.